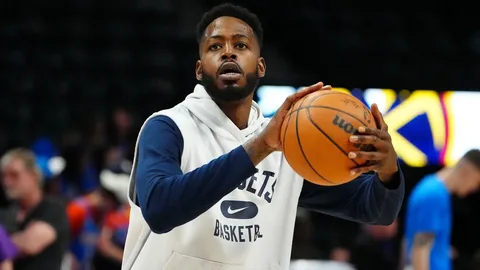 The Golden State Warriors have unlocked a cheat code in NBA in JayMychal Green. They are feeding off of his toughness and great three-pointer shooting in the league. Damion Lee has visited the Chase Center for the last time in this season for the Phoenix Suns. However, the arena hasn't been kind to the ex-Warrior player as his team lost 123 to 112 against the home team in the game.
Damion Less however has only played for eighteen minutes, but he managed to score seven points in those few minutes and also helped the team with five rebounds. However, all his efforts went to vein as JayMychal Green emerged in the game in the fourth quarter of the game. With only a few minutes left in the game, Green took his team fifteen points above the opponents. Green was talking to Lee about a scuffle between Poole and Lee.
Around this time, Lee was trying to push JayMychal Green. Green showed toughness and held his ground while talking and moving forward. This made it clear that he was incharge in the situation.
JayMyChal Green Showed Toughness:
Lee then elbowed him before moving past him and the referee decided to give a foul. Then Lee again pushed Moody to the ground, and as JayMychal Green went to pick up his teammate, Lee again shoved him at the end of the saga. After that his teammates, coaches, and referees to hold him back. After the practice on Tuesday the press finally got Green to talk about it. There Green said that he saw his teammate getting into that altercation and they reacted. It is hard for them to explain why he did that, and it was just the heat of the moment for him. JayMychal Green said that they were already beaten by the Suns. So, this is like the playoffs for The Golden State Warriors and they are ready to win every game.