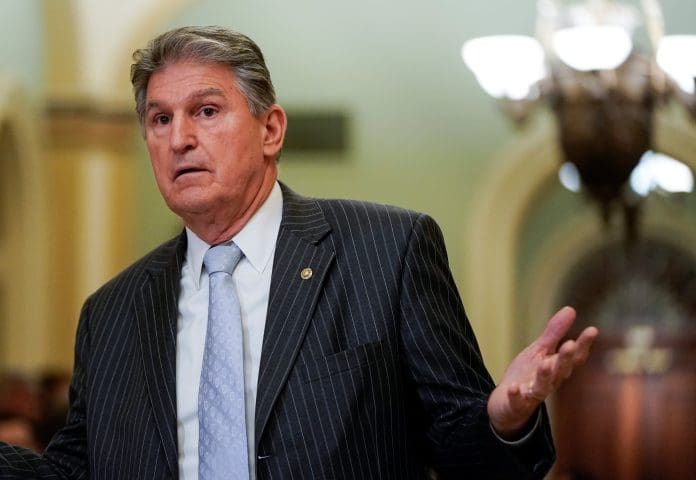 Joe Manchin has made a fortune by promoting the interests of energy companies. He has been rewarded handsomely for his dogged loyalty to his backers in the coal industry, going all out against his party on several occasions, especially climate change policies.
His long-term links fraternizing with the coal trade are well known but are now under increasing inspection following his move to fully scuttle the energy bill. He is taking full advantage of the 50-50 split in the Senate which has effectively given him veto powers over his party.
Joe Manchin is also actively involved in the coal industry through Enersystems, the energy brokerage firm he founded. His holding there is valued at between $1M and $5M.
Last year alone he made over $491,000 thanks to his holdings in Enersystems. That is more than double his salary of $174,000 as a Senator.
Joe Manchin Opposes Climate Change Policy As It Hurts His Interest
Joe Manchin personifies conflicting interests within his party. And his position in the Senate, where he holds the deciding vote, has given him enormous influence over all policies, especially policies on climate change, which he vehemently opposes as it conflicts with his interest.
His power exemplifies the broad sweeping powers that Senators hold and gives them the flexibility to regulate laws where they have personal stakes.
Joe Manchin chairs the Energy and Natural Resources Committee of the American Senate. His continued presence makes no sense as he is heavily invested personally in a system that clashes with his party's interest. This is evident from his presence in the climate policy committee while heavily profiting from fossil fuel industries.
Joe Manchin's spokesperson has revealed that the Senator was fully compliant with Senate financial and ethics disclosure rules.
Manchin has maintained that he would not support a move to clean energy fuels faster than the current pace. He has also opposed a fee on industries that emit methane gas and allows it to escape into the atmosphere.