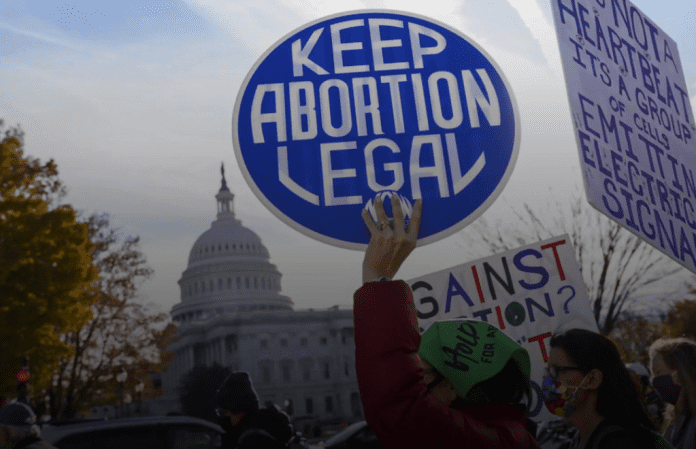 Voters in Republican-ruled Kansas protected their right to abortion. The Kansas abortion referendum on Tuesday rejected a move that might have allowed the state legislature, controlled overwhelmingly by the Republicans, to stiffen abortion restrictions, or even ban it altogether.
The Republicans control both the Senate and the House in Kansas, while the Democrats control the office of governor. The Kansas Abortion referendum was significant as it was the initial test of voters' sentiment in America about abortion laws since the Republican-controlled Supreme Court reversed Roe v. Wade this June.
Kansas Abortion Results In A Welcome Victory For Pro-Choice Activists
The results of the Kansas Abortion voting are being marked as a major triumph for right-to-abortion activists and advocates after weeks of setbacks as Southern and Mid-Western states banned abortion or brought in severe restrictive practices.
Voters overwhelmingly rejected the Kansas abortion amendment that would have included a provision in the state constitution affirming that it doesn't grant residents the right to go for abortion under any circumstances, even in case of incest or rape.
A decision by the state Supreme Court in 2019 ruled that abortion was a fundamental right under the Bill of Rights in Kansas. It potentially prevented a Kansas abortion ban and thwarted any efforts by state legislators to bring in fresh restrictions.
The referendum is being closely monitored as a measure of the sentiment of moderate and liberal voters over the Supreme Court ruling, dumping the right to abortion that has stayed in place for over half a century. The referendum is even more significant as Kansas is overwhelmingly conservative and the number of Republicans voting in the August primaries has been twice as many as the Democrats voters.
Republican voters said that they would prefer that their children have equal rights as they or their parents had over the past 50 years. It was expected that anti-abortion legislators would have pushed to have the law amended if voters had supported the Kansas abortion referendum.