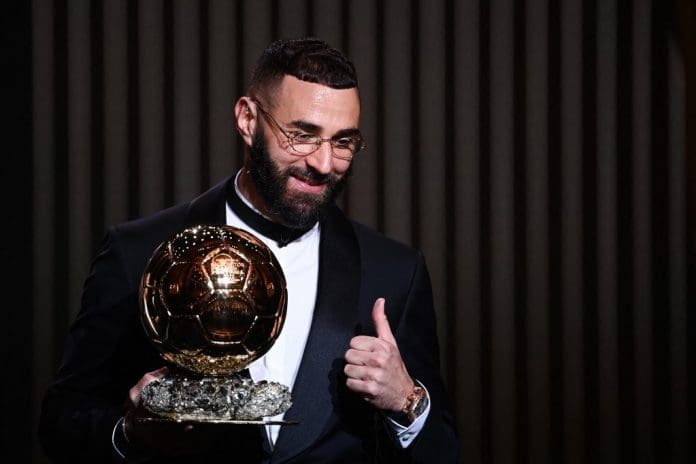 Karim Benzema owns a gorgeous villa in Ciudalcampo, a prestigious neighborhood on the outskirts of Madrid, where the Ballon d'Or trophy has been given a special place.
The Frenchman has dreamed for a long time of adding the trophy of his dreams to his collection of Champions Leagues and other trophies. The event on Monday night was the culmination of a lifetime of work and the realization of a lifelong ambition. Karim Benzema, officially declared the greatest player in the world, continued to work hard, believe in himself, and dream of winning the award while facing difficulties at Real Madrid, not being selected by Didier Deschamps for France, and maturing in age.
Karim Benzema's Dream Has Been Fulfilled
The awarding of the Ballon d'Or to "Karim the Dream," as he is affectionately known, is a recognition of his long and successful career, during which he pioneered a new approach to the beautiful game that combined flair, awareness, imagination, and intellect. There have not been many people with his perspective on the game, hence players like him are unusual.
Karim Benzema is the oldest player to win the Ballon d'Or (he will be 35 at the end of December) since the legendary Stanley Matthews in 1956. He became the first French player to win the award since Zinedine Zidane in 1998. After the best season of his career, there were no longer any questions about whether he would win it all this year. He invited his mom Malika up on stage with him after the announcement of his victory so that they could celebrate together.
Even when he was a little child at their Bron, near Lyon, council estate and completely consumed by his love of football, she never stopped believing in him. The Benzema's are a close-knit and large family, and they have always stressed the importance of instilling in their children the values of respect, hard work, and loyalty. Karim is now also passing on them to the following generation.