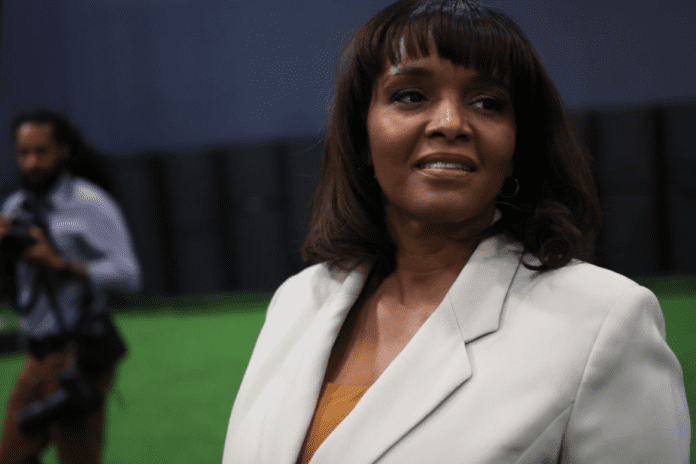 Kathy Barnette, the surging GOP Senate candidate from Pennsylvania, definitely has a history of making anti-gay and anti-Muslim statements. In several tweets, Barnette went on to spread the false conspiracy theory that the former President of the country, President Barack Obama, is a Muslim.
In a speech that was uploaded to YouTube in 2015, Barnette went on to argue forcefully that it was quite alright to discriminate against Muslims and reject Islam at the same time. She believed that it would be similar to rejecting the worldview of Hitler as well as Stalin. In several statements made on her radio show, she also stated that accepting the doctrine of homosexuality was similar to accepting pedophilia and incest.
Kathy Barnette's Homophobia Not A Deterrent For a Life in Politics 
Despite these problematic statements, Kathy Barnette did surge in the recent polls as she stands pretty close to Mehmet Oz, the candidate endorsed by Donald Trump, and David McCormick- a former hedge fund manager. The Senate seat in Pennsylvania has always been one of the best pickup opportunities for Democrats, and the rapid, sudden rise of Barnette has been a major cause of worry for the allies of Trump. 
Interestingly, Kathy Barnette has had quite a quick and meteoric rise in the polls just ahead of the primary next Tuesday. As of now, she has been best known as a veteran of the Army Reserves, along with being a conservative political commentator who usually appears on Fox. She was also the host of a Christian radio show which was called the Truth Exchange, which also had a website for blogging. Back in 2020, she had run for Congress in the 4th Congressional District in Pennsylvania, but she lost to Rep. Madeleine Dean.
As of now, Kathy Barnette's campaign did not respond to any of the requests made by CNN for comment.