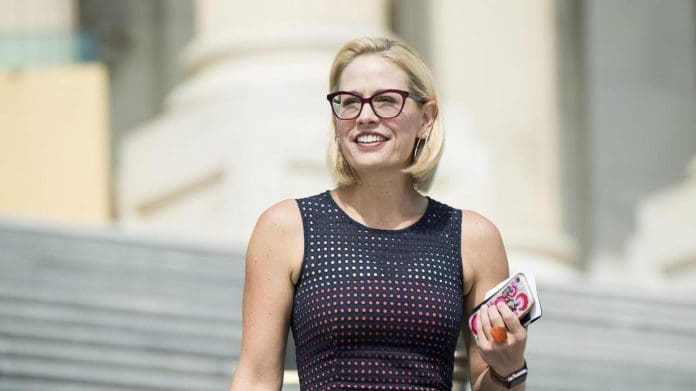 Wayward Senator Kyrsten Sinema has finally offered the critical support necessary to push forward President Joe Biden's top domestic bill agenda after the Democrats agreed to change fresh tax proposals on her insistence. She has indicated her willingness to move forward on the sweeping economic package that has been under intense scrutiny and negotiations for over a year.
Her bullheadedness has closed a plan to close a big tax loophole. The Democrat of Arizona, like her colleague Joe Manchin, has used their virtual veto power in a split Senate to water down the Inflation Reduction Act in return for her support.
The climate, energy, health care, and tax economic bill would spend roughly $430B and raise taxes by roughly the same amount over 10 years. With Sinema finally on board, the bill is assured of a safe passage through the Senate despite total Republican opposition.
Kyrsten Sinema had just one demand; the removal of a provision that would have partly closed the carried interest loophole. This provision in the tax code favors private equity professionals, allowing them to pay way lower investment tax rates on compensation that is in effect ordinary income.
Sinema has been silent on her rationale for preserving the carried interest loophole. In a statement, the Arizona Senator said that President Biden had agreed to eliminate the provision, boost clean energy, and protect advanced manufacturing in the new budget reconciliation legislation of the Senate.
Kyrsten Sinema Has Used Her Position In A Split Senate Before To Blackmail Her Party Into Submission
Kyrsten Sinema used her unique position as the 50th senator the Democrats needed to push through the vital bill. Once it turns into law, the bill will cap over a year of hectic intra-party talks. With Sinema's support, Chuck Schumer, the Senate majority leader, said he expects the total support of the 50 Democratic senators.
It appears that campaign contributions from investment funds swayed Sinema. She has received over $2.2M from firms like Goldman Sachs and KKR.
In a statement Schumer, the senate majority leader said that they had finally managed an agreement on the newly named Inflation Reduction Act, earlier the Build Back Better bill. He said he believed that the economic bill will have the full backing of the Senate Democratic conference.