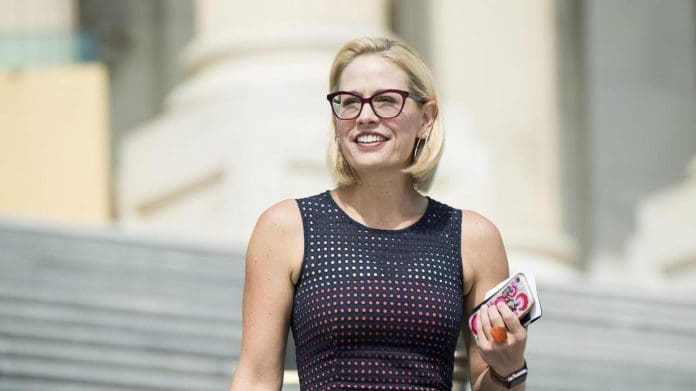 With Joe Manchin having had his day under the Senate sun for some time now, it is now the turn of the second recalcitrant senator in the Democratic camp, Kyrsten Sinema. Both thrive on being in the spotlight and having their egos massaged. And this Manchinema team seems to be getting exactly what they want. Sinema has now moved into the spotlight is worrisome at this stage.
The Democrats have finally managed to convince the greater hurdle, the pigheadedness of Joe Manchin. With him getting his way, the focus will now shift to convincing Kyrsten Sinema ti back to the $790 billion climate and healthcare bill.
With Kyrsten Sinema sporting an ego as big as compatriot Joe Manchin, who is busy doing the rounds of talk shows. He is now taking credit for the Inflation Reduction Act, refusing to revert to the original Build Back Better Act, which he initially blocked and distorted beyond recognition.
Manchin has also been an act on his own and has refused to be clubbed with the Democrats, referring to his party as 'they,' never 'we.'
Kyrsten Sinema Has Been Reticent On The Build Back Better Bill: Might Use Her Veto Powers To Stifle It
Kyrsten Sinema has been just as obsessed with projection herself rather than her party onto the center stage. She has hinted that she was blindsided by the bill and has refused to reveal her hand on finally supporting it.
She has also leaned toward Republican Senators who have been concerned with the corporate taxes proposed under the new bill.
Republican Senators such as John Thune, the minority whip in the Senate, have said that Sinema was analyzing her next move. He was effusive of her independence and said that she was in that phase right now.
Kirsten Sinema revealed that she continued to hold out on the bill till she was convinced that it went true to her principles. She has been generally supportive of the points and has in the past been supportive of a tax on corporates.