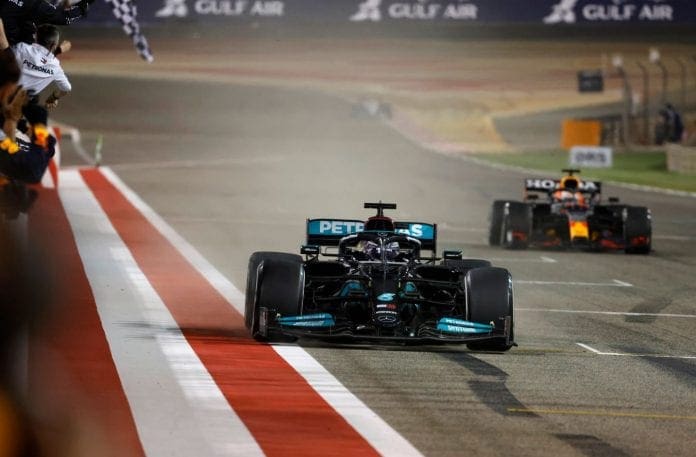 The F1 season of 2021 is underway with Lewis Hamilton seeking to cement his place as the best driver in the history of the sport. He is on the search for an 8th championship title, a feat no driver has ever achieved. He put on display the passion behind the intention with a victory at the inaugural Grand Prix.
Lewis Hamilton At Bahrain
The first race for this season took place among the sands of Bahrain. Max Verstappen, of Red Bull, had won pole position in qualifying. However, the Grand Prix was a thriller as Lewis Hamilton came out on top at the end with his Mercedes.
The Red Bull car showed that it is faster this year, and was possibly the fastest on Sunday. However, Verstappen could not manage to secure his 12th victory at a Grand Prix after running wide in the final lap of the race.
Valteri Bottas, Lewis's teammate however finished third, trailing the leaders by 37 seconds. He rued about how their strategies were different.
The victory is the 96th one for Lewis Hamilton and for the first time since 2015, he managed to secure the top spot in the opening race of the season. The race was tumultuous and was stopped temporarily after the first lap when debutant Nikita Mazepin's Haas crashed in Turn Three. It was the same turn at which Grosjean's Haas had burst into flames last year.
Verstappen had mostly maintained the lead. Both of them were on a two-stop strategy but the stops came at different times. As such, in Lap 53, Verstappen was deemed to have made an illegal overtake on Lewis Hamilton and was penalized. This was the defining factor behind the final standings.
Debutant Mick Shumacher, the son of Michael Schumacher, finished last. Fernando Alonso suffered multiple car failures and had to retire his Alpine. Sergio Perez received the driver of the day award after putting in a spirited drive to end fifth while starting from the pitlane.