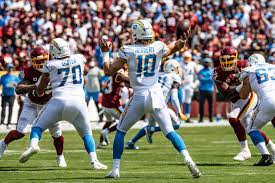 The Los Angeles Chargers triumph over Colts as their Derwin James Jr. become the Santa Clause for the Chargers, head coach has been happy with performance.
Chargers' head coach Staley embraced owner Dean Spanos with a hug as they secure their first ever playoffs place in the National Football League. The owner took the match ball as a present from the team.
The gaffer said that he had been expecting to present the match ball to the owner ever since he took charge of the team. He said the owner had been incredibly patient with the team and trusted their spirit. The owner as per the coach has been the one man who took time and invested in the team, bringing the team together.
Dean Spanos along with the coach celebrated the playoff spot of Los Angeles Chargers in their dressing room in the away ground as they own the game against the Indy Colts with a huge twenty to three margin.
Los Angeles Chargers Triumph Over Indy Colts, Secured Their Playoffs Spot In The Tournament:
Since 2018, the LA Chargers are going to return in the knockout stages of the tournament as they secured their place in the berth of playoffs with two more games left in the regular season.
Dean Spanos said while celebrating their victory confessing that he is not great at giving speeches but he is incredibly proud of their triumph.
The Los Angeles Chargers has been incredible all season. They entered the 16th week with a direct entry to the playoffs of this seasons' NFL. The LA based teams assurance of the playoff spot this season came too early than expected as the team secured their spot in the postseason only after the NY Jets, Las Vegas Raiders and the New England Patriots.