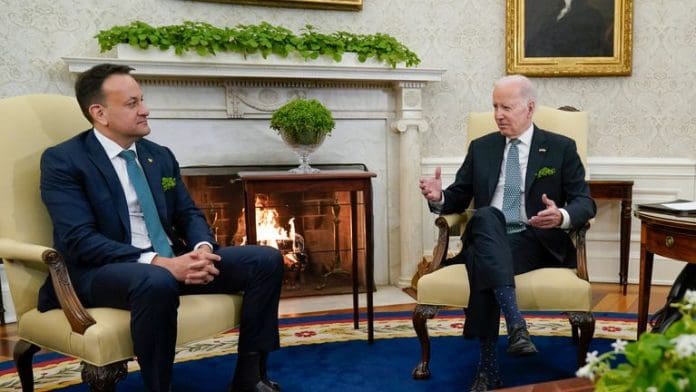 This is the first time after the pandemic that the Irish taoiseach Leo Varadkar  Joe Biden was to the white house. Joe Biden brought back the St.Patrick' day celebration to the white house after three years. This is the president's first time since his presidency. He is spying with respect to his Irish roots perhaps. His action restore hope in many Americans. There is definitely change is happening.
Joe Biden Painted The White House Green
The Americans had the st. Patrick's day properly after three years. Joe Biden didn't literally paint the white house green. His effort to keep the tradition alive that's what made it green. He dyed the fountain green at the white house. Joe Biden is soon going to visit northern Ireland when is not decided yet.
This is on the good Friday agreement perhaps. The Irish prime minister Taoiseach was present with Biden. President appreciated it and called it a big day. Joe Biden has been putting his focus on keeping Ireland and the United States tradition much alive. They are looking forward to making the relationship way better.
Biden would be discussing the Windsor framework soon with the Irish prime minister. Varadkar supposedly helped the US during the tough time. Even contributed while the US was helping Ukraine. They even helped with major economic issues.
Joe Biden visited capitol hill, where Kevin McCarthy was also present. Biden throws light on his Irish heritage. Another thing he did was try to find common ground with house speaker McCarthy.
Biden's visit to Northern Ireland would make it a 25th-year anniversary. The last visit was in 2013 by Barack Obama. Former president Trump didn't try doing this or keeping the tradition alive.