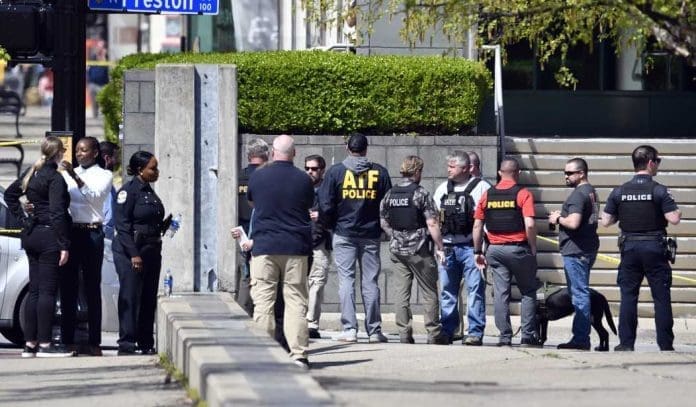 A mass shootout took place at the bank in Louisville, Kentucky killed five colleagues at the bank. The gunman named Connor Sturgeon is also an employee of the same bank. He bought a gun on 4th April and told his close ones he was suicidal. He was initially thinking about harm. The whole shootout was recorded on the police camera. His family confirmed the mental health challenges he was facing. They were also shocked by the act he pulled.
Louisville Controversial Footage Took The Internet By Storm, Leaving The Residents In Terror
The whole attack was recorded and live-streamed. The meta immediately ordered to remove it from Facebook. Perhaps another source has downloaded it. They uploaded it later. The whole attack perhaps left nine people injured. Five people were dead, including one officer. Another officer on patrol is in critical condition.
The Louisville gunman used AR-15, and the weapon was clearly visible during the live stream at the beginning. His family was still in shock and couldn't process it. Before straight going in he messaged his family I love you. According to the attorney.
A woman perhaps a colleague also greeted him in the morning, Connor was all in a mood. He simply asked her to get out. He did try to shoot her in the back. The whole of Louisville is in shock and petrified to even get out of the house.
Residents are horrified after the mass shootings taking place all over the country. Yet there are no signs of ending it. Americans started questioning the authority for tightening the rules and usage of guns. Somehow the culprit gets their way no matter what. The Louisville officers perhaps have more guts than the politicians, to walk straight up to rifle. They did not care about their lives.