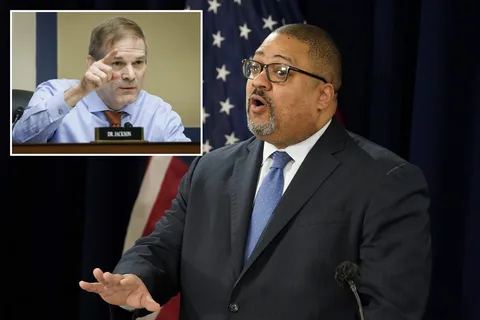 In a complaint filed on Tuesday, Alvin Bragg a Manhattan DA accuses Jim Jordan of leading a "transparent promotional effort to attack and intimidate" his office's investigation of Donald Trump former US President. The lawsuit adds to the legal drama surrounding Manhattan DA Bragg's investigation into the ex-president, which has already been followed for several weeks by Republican assertions that the prosecutor intended to pursue the ex-president simply based on political reasons. These claims were also at the heart of Jordan's own investigation.
Mark Pomerantz, an ex-prosecutor in the office of the Manhattan DA, has been subpoenaed to testify, along with other requests for "confidential evidence and records from the lawyer himself along with all his employees." Jordan's subpoena for Pomerantz to testify on April 20 is being challenged in a 50-page lawsuit, which asks a federal judge to grant both an emergency and long-term remedy that would prevent its implementation. Pomerantz informed Jordan the previous month that he has no intention to cooperate as per orders from Manhattan DA, Bragg's office.
Manhattan DA Bragg Pleads For Immediate Relief
Later on Tuesday, US Judge Mary K Vyskocil rejected Manhattan DA Bragg's plea for immediate relief, but they could still halt the subpoena with other types of relief. An investigation has also been scheduled for 19th April. The federalist system and the State of New York's sovereignty are directly threatened by that effort. This Court ought to prohibit the issued subpoena and stop this unconstitutionally harmful fishing expedition.
In the resignation letter he wrote, Pomerantz accused the former president of being guilty of multiple felony violations in relation to his yearly financial statements. Pomerantz left the Manhattan District Attorney's office in 2022. One day after Manhattan DA Bragg told him he wasn't ready to pursue criminal charges at that time, the man announced his resignation.