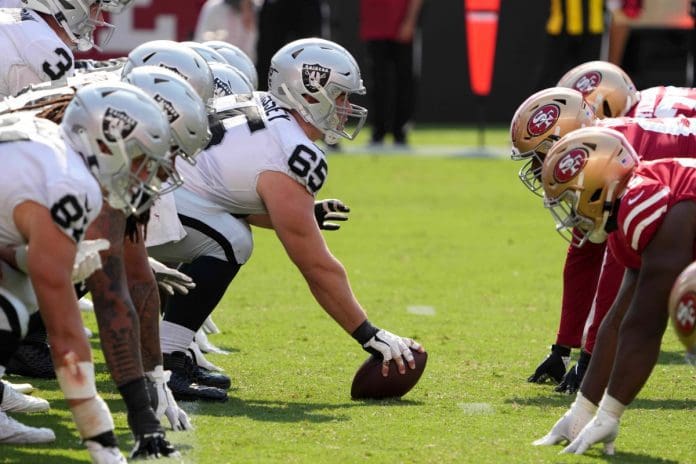 The LV Raiders had a clunky offense and were quite low on efficiency. Their defense was also terrible but still managed to hold on, against the Baltimore Ravens.
How The Raiders Won It In Overtime
The game was played out in front of 61,756 people in the Allegiant Stadium. The Raiders came back from a 2-touchdown deficit to bring out a 33-27 win in OT.
The Raiders coach, Jon Gruden, compared himself to a cat, saying that he had multiple lives that night. The win was a tough one but the way they won was not preferred.
The coach praised Derek Carr as he played under tough circumstances and helped make a signature play at the end of the game, from the defense.
The OT period was wild where the Raiders thought that they had won on a 33-yr TD pass from Carr to Edwards, who was later ruled to be down the 1-yr line. Carr was stuffed on a sneak. A false start penalty on Leatherwood at right tackle was succeeded by Carr's brilliant pass to Snead IV, which bounced off him and into the end zone, being intercepted by Averett.
On the ongoing Ravens drive, Carl Nassib's strip-sack of Jackson and Philon's recovery at Baltimore's 27-yard line set up Carr's game-winning 31-yard pass to Jones with 3:38 remaining in the OT.
Carr had a slow start and finished with 435 yr passes and 2 touchdowns with an interception in completing 34 from 56 tries. This was tied for the 3rd most passes in a game in his entire career.
Raiders put on a show, unlike anything the glitz of Las Vegas had ever seen before. Gladys Knight performed the national anthem, rappers Ice Cube and Too $hort staged a halftime concert, and, MNF delivered in Sin City.
With the Raiders gaining their victory, every team in the AFC West and the NFC West is 1-0. There has never been a week since the 1970 AFL-NFL merger when multiple divisions saw all of its teams win.