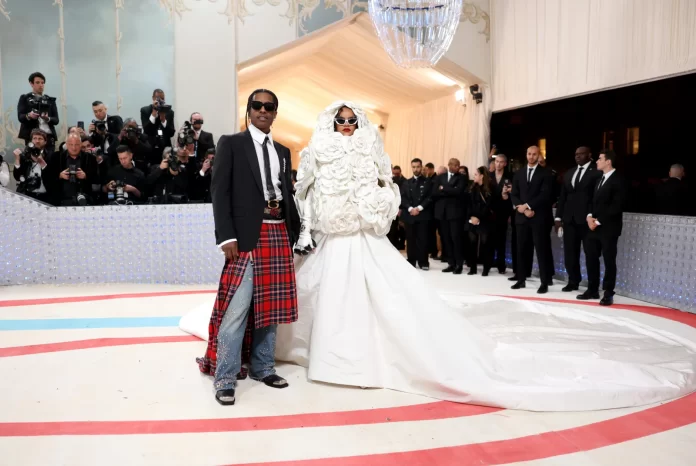 This year was dedicated to the late designer Karl Lagerfeld. The theme was A Line Of Beauty. Some of the stars did pull off as the best dressed. Popstar Rihanna was the last one to appear at the Gala. She wore a white Valentino gown with floral, huge roses as her veil. Fans thought she was ready to walk down the aisle with A$AP Rocky. The majority chose the black-and-white look. Simple and classy yet glamorous.
Karl Lagerfeld preferred a color palette. With pearl embellishments. This was primarily advocated by the House of Chanel.
Some of them showed off their creativity. While others chose classic Lagerfeld's archive over the years. His death in 2019 left the fashion industry with a void.
Met Gala From The Archives
The majority chose to pick their attire for the evening from the archives. Well, Rihanna was the star of the show. She flaunted her baby bumps with a white gown. She walked hand in hand with A$AP Rocky. Bad girl Riri had quite the show. She enjoyed how everyone thought she was getting married soon.
A$AP Rocky wore a Gucci-inspired black suit with shimmery jeans and a check kilt over it, to the Met Gala. With lots of Gucci belts.
Gisele Bündchen was all alone at this Met Gala since her divorce from Tom Brady. Since 2006 she has been coming to the Gala with her ex-husband. This time all alone, perhaps the experience was different.
She wore a Karl Lagerfeld from the archive of the 2007 summer-spring Haute Couture show. It was all white with a feather cape.
Some had deja vu after seeing her in that dress. She wore the same outfit in a photoshoot for Harper's Bazaar Korea, photographed by Karl Lagerfeld himself. It was an emotional moment for her indeed.
Dua Lipa opted for a Chanel Haute Couture ball gown from 1992 for this Met Gala.
She is also the co-chair for the gala. She paired it with an iconic Tiffany diamond necklace which was over 100 carats.
Jenna Ortega opted for half goth and half glam which she has mustered up. She wore a corset bodice with a ruffled skirt with chains.
Whereas, Anne Hathaway wore a Versace white gown. Which is a fusion of half-party half punk styles. Soft glam looks with bold eyes stole the show.