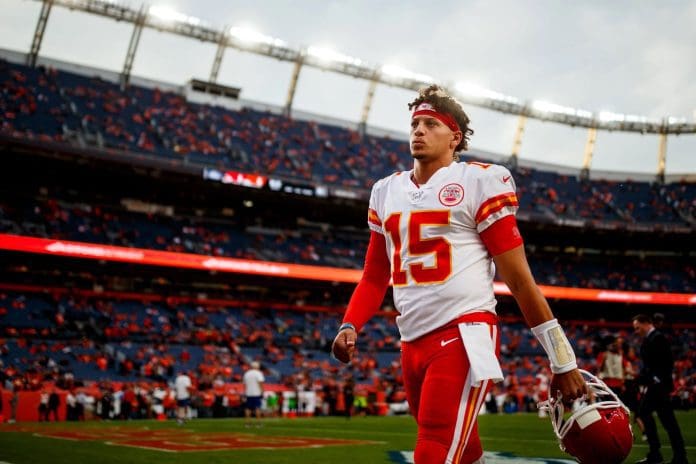 Last Thursday saw Patrick Mahomes winning the NFL MVP for the second time in his career, which made him the eighth quarterback to win multiple Most Valuable Player awards. Interestingly enough, the winner was nowhere in attendance at the Symphony Hall in Phoenix where the league's awards ceremony was taking place.
Rather, he was at an unknown location where he was preparing for the Super Bowl on Sunday- which would take place between the Philadelphia Eagles and his team- the Kansas City Chiefs. Unsurprisingly, Mahomes is also the favorite to win the MVP of the Super Bowl. Currently, he stands at +120 odds, which is just ahead of Jalen Hurts, the QB of the Eagles who stands at +125. The third place is occupied by Travis Kelce, the tight end for the Chiefs- who is at +1200. 
Patrick Mahomes Could Join Elite Company Is He Wins Super Bowl MVP
The difference of around 10 times between Mahomes/Hurts, and Kelce is not really surprising when we consider that out of the last 56 Super Bowls, quarterbacks have been named the MVP 31 times. As it stands, Patrick Mahomes and Jalen Hurts were also the best quarterbacks for this season.
Mahomes threw for 5,250 yards- a NFL high, along with 41 touchdowns. He also went on to complete a career-high 67.1% of his passes and had around 12 interceptions. Ins second place was Hurts, who was in his second season as a starter. He managed to complete 66.5% of his passes for around 3,701 yards and made 22 touchdowns. He also ran for 760 yards and 13 touchdowns. 
If Patrick Mahomes goes on to win the MVP on Sunday, he would be a part of a special company. Only six other players have won the MVP of both the NFL and the Super Bowl in the same season. And none of them have managed to do it since Kurt Warner in the 1999 season.