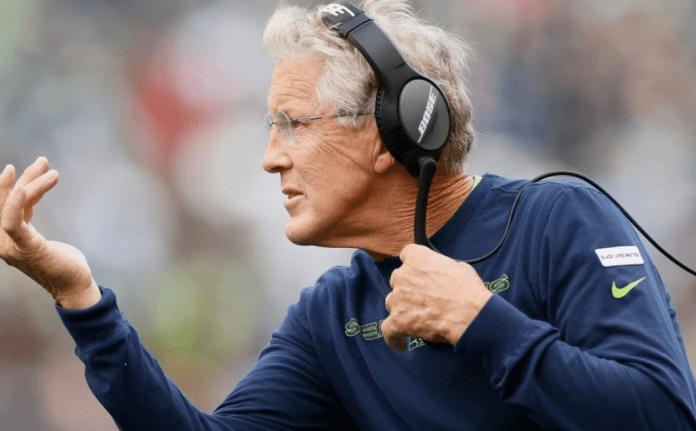 Pete Carroll, who is the coach for the Seahawks, stated that he respected what NFL tried to achieve but it has opened up a can of worms. The rule penalizes actions that are difficult for some players to avoid amidst the emotions of the sport.
Carroll stated that most guys will have to deal with these explosive moments and turn their focus away from their opposition. The thought behind this rule was great but it is quite difficult to manage.
Pete Carroll Talks About The Taunting Rule In NFL
The taunting rule is not new but NFL has put a lot of emphasis on it in 2021. There were 11 taunting penalties called in the first 2 weeks itself, which is equal to the total penalties called in the 2020 season, entirely. 2019 had 9 penalties.
The Seattle Seahawks had been flagged for taunts, twice. One by receiver DK Metcalf and the other by cornerback DJ Reed.
Pete Carroll made these comments in response to the flag against Reed. This came in the 4th quarter where Seattle lost in OT against the Tennessee Titans. Reed defended a deep ball and pumped his arms while staring at AJ Brown. This was a routine celebration and was left unpenalized in the previous seasons.
Pete Carroll had an issue with the rule itself and not on the official's call. Jamal Adams shared a similar emotion postgame and called out the rule.
Jamal stated that NFL was taking away the passion and emotions behind the game but had to follow it, as it was in the rules. They just have to play smarter.
Pete Carroll called out another player who was unidentified. He made an aggressive move but was faced away from the opponent and it looked like he was not directing his celebration at anyone, but it was.
Reed's penalty was one of five 15-yard infractions by the Seahawks against Tennessee. In all, they committed 10 penalties for 100 yards.