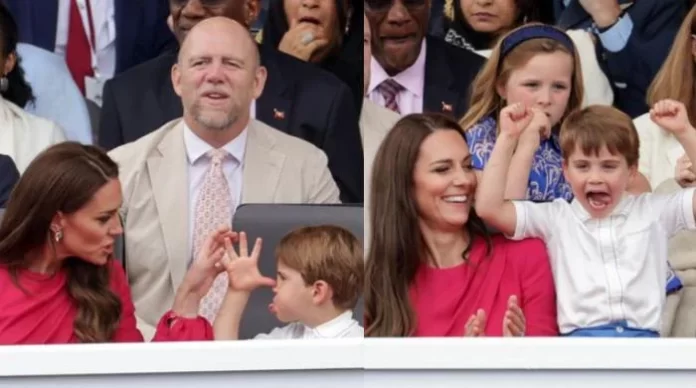 The royal family gathered on the balcony of Buckingham Palace to watch the annual Trooping the Colour procession, which started off Queen Elizabeth II's Platinum Jubilee festivities.
However, it was Prince Louis, Prince William and Kate Middleton's 4-year-old son, who stole the show with his cute and amusing antics. The tiny prince made waves over the weekend for making a variety of expressions at Trooping the Colour and subsequently appearing on the Buckingham Palace balcony for the flypast. PrinceLouis was photographed covering the Duchess of Cambridge's mouth when he stood in the royal box two days later, much to the delight of the public. Prince Louis quickly became a social media sensation after thrilling royal watchers.
In a special Insta post on Monday, his parents, Prince William and Kate, acknowledged their son's mischievous conduct.
Prince Louis Was Not Pleased With The Loud Noises
While standing on the balcony alongside his great-grandmother a few days ago, he was visibly annoyed by the loudness. He has not stopped since then. He was spotted with his family on the last day of the celebrations yesterday, and let us just say he was not having it.
Apart from the ceremony, he was genuinely interested in everything. He grabs the hair of the female behind him at one point! That makes it logical because he is four years old. One video, in particular, is circulating on social media, and it depicts the prince bugging his mother. At this age, he obviously does not care about royal etiquette, but his mom, the Duchess of Cambridge, has to. As a result, it is a pretty amusing sight. The Duchess is attempting to soothe Prince Louis so that he would behave for a brief period. There are some extremely sweet photos of him with his mom in a rare quiet moment.