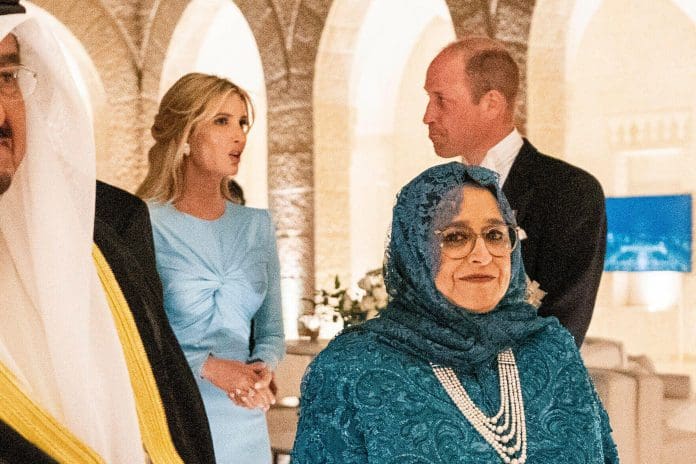 Prince William and Catherine, Princess of Wales attended the wedding of Crown Prince Al Hussein bin Abdullah of Jordan and Princess Rajwa Alseif on June 1 in Amman, Jordan. It was during the wedding ceremony, the media picked up Prince William and Ivanka Trump, daughter of former US President Donald Trump engaged in conversation. Since then, images and footage of the two conversings became viral on social media. Ivanka Trump and her husband Jared Kushner were invited to the royal wedding among other dignitaries.
Ivanka Trump had previously met Prince William back in 2019, during President Donald Trump's state visit to the United Kingdom, and had met the Late Queen Elizabeth II. At the wedding, Prince William wore a black tuxedo while the Princess of Wales wore a floor-length gown. Ivanka donned an elaborate blue gown at the wedding.
On June 2, Ivanka posted a photo of herself with her husband at the wedding on her Instagram account and she congratulated the newlywed royal couple stating that she wishes their lives to be abundant with love, happiness, and health.
Prince William Hurried Princess Catherine While She Was Conversing With Princess Rajwa
In yet another viral video, popular on social media, Prince William could be seen making hand gestures to his wife Princess Catherine, wrapping up her conversation with the newlywed royal couple. The Princess of Wales was in conversation with Princess Rajwa while Prince William waited looking at her for her to finish, as guests had lined up to congratulate the royal couple after their wedding. Netizens are split in their opinions about this incident, some found it inappropriate while many found it relatable as the Prince's gesture as what a typical husband does.