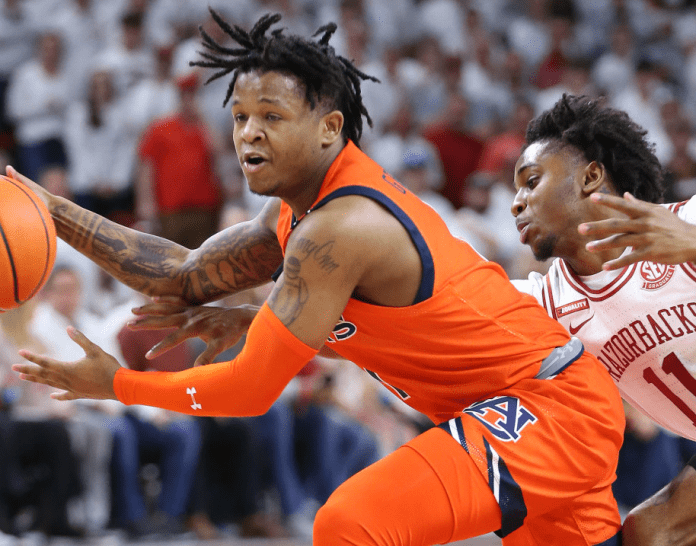 The Hogs have taken down Auburn Tigers playing before record crowds at the Bud Walton. This stadium has never before played host to a national No. 1 team. It also never witnessed such a large gathering until Tuesday. The Arkansas Razorbacks down Auburn Tigers 80-76, playing before a record attendance of 20,327.
With 2:39 left, JD Notae with 28 points, 3 steals, and 4 blocks, and Jaylin Williams with 13 points plus 11 rebounds, made 7 free throws and gave the Hogs a lead that they never relinquished.
Auburn Tigers Still Have An 11-2 Record Over The Razorbacks
This win was merely the 2nd time that the Razorbacks have even beaten the Tigers, the No. 1 team. With this victory, the Razorbacks move to a 2-11 record in these games. It also is the 3rd time that a No. 1 opponent come to Fayetteville and also the 1st time that they played in the Bud Walton.
The game between the Razorbacks and the Auburn Tigers featured 17 changes in lead and 15 ties. The final lead change came as the Auburn Tigers lead at 70-69 and 2:39 was left for overtime.
Starting from that stage, Williams made a couple of free throws, Notae also had the same numbers while Williams finished his 7-0 runs with 3 free throws that put the Razorbacks up 6, to take it up to 76-70.
Auburn Tigers fought back with 3-pointers to bring down the deficit and take the score to 76-73. With 2 free throws Lykes, Smith scored another 3-pointer to take the Auburn Tigers to within two even as 19 seconds remained.
Note was fouled even as 12 seconds remained giving a 4-point lead from the Razorbacks. Tigers missed a jumper and the rebound went to Williams, and it was all over.
The Hogs take the road to face Alabama this Saturday.