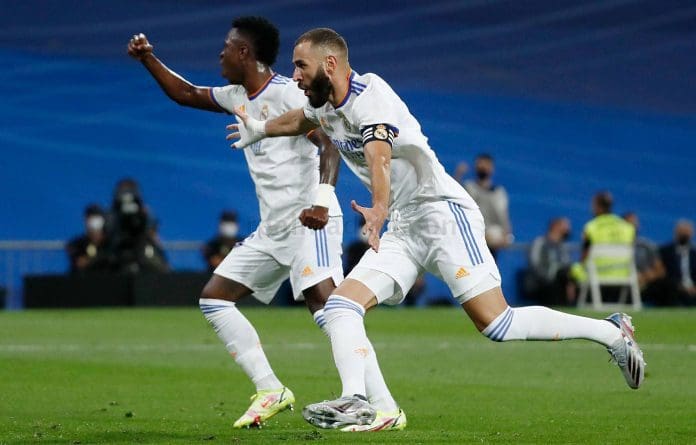 Real Madrid fans were really happy to see their side back at the Bernabeu. Vinicius Junior slid a low shot into the net and ran towards the sideline and finally jumped into the stands.
Real Madrid came back from behind to beat Celta Vigo 5-2 in the Spanish League thanks to goals from Vinicius Junior, Eduardo Camavinga, and Karim Benzema.
Real Madrid Fans Were Happy To See Them Back At Bernabeu
This game was the first, where the team returned to Santiago Bernabeu Stadium. The stadium was closed for 18 months because of renovation projects as well as due to the pandemic.
Karim Benzema stated that the night was special for the players and said that the support of the fans had helped them win the game.
The remodeling of the Stadium is not completed but was reopened to a limited crowd (19,874). This game was the first, since March 1, 2020, when Real Madrid beat Barcelona, 2-0.
Real Madrid took advantage of the prohibition because of the pandemic, to accelerate the renovation at the Bernabéu and played its home games at the Alfredo Di Stéfano Stadium, which is the club's training complex. It played 3 straight away matches in the first 3 rounds this season to get the venue ready for crowds again.
Celta opened the scoring with Santi Mina. He capitalized on a defensive error by the Madrid defenders, only 4 mins into the game.
Benzema scored the equalizer with an assist from Valverde but Celta scored again, in the 31st minute, through Franco Cervi.
Benzema scored another in the second half with a brilliant header. Vinicius followed that up with another goal in the 54th minute. Camavinga made his debut and added another in the 72nd minute.
Benzema scored the last goal with a penalty and is not the leagues' top scorer with 5 goals.
Real Madrid is currently on top of the table with 10pts from 4 games. They have drawn games with Atletico and Valencia.