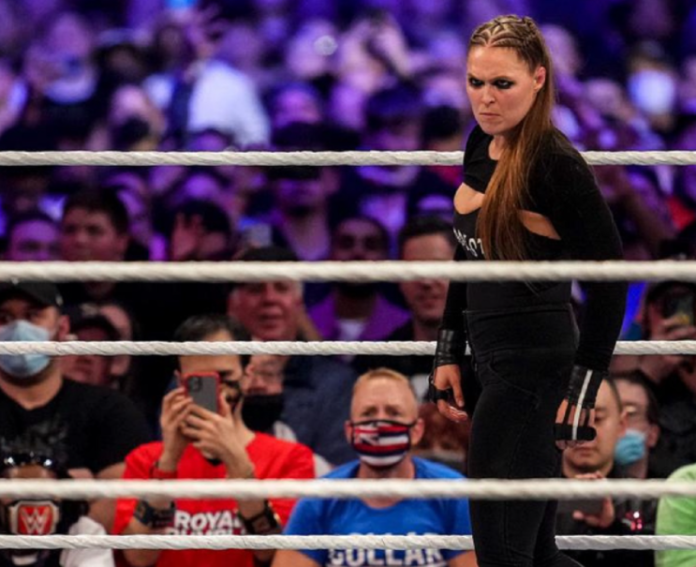 After 3 years of staying away from WrestleMania, Ronda Rousey staged an emphatic homecoming to the WWE Fold as she was present at the exciting Royal Rumble. She was among the last contestant to participate in the Royal Rumble ring comprising 30 women. Finally, she was among the last two megastars left to fight it out on the ring, she and Flair.
Ronda staged a surprise entry as the 28th of the 30 participants at the Royal Rumble 2022. The stage was set at America's Center The Dome, in St. Louis, Missouri. She arrived in a novel ring gear, making a grand entry to the loudest cheers of the Saturday night match.
Ronda Rousey Is Also A Former Women's Bantamweight Champion
Rousey is the Raw Women champion and also the former women's bantamweight champion in the UFC. With the elimination of Charlotte Flair, the SmackDown Women Champion, Rousey added the win at the Royal Rumble. On the way to the win, she defeated a host of other Rumble superstars including Brie Bella and Nikki ASH.
'Rowdy' Rousey will now go for a WrestleMania world championship fight. At present, Becky Lynch and Charlotte Flair are the reigning Raw Women Champions. The end of the Women Royal Rumble fight saw a teaser that Charlotte Flair vs. Ronda Rousey could ultimately turn into the concluding match.
The winner of the Royal Rumble was last on stage in April 2019, in the 35th WWE Wrestlemania match. The event was at WrestleMania 35.
Ronda Rousey was on the occasion the champion of Raw Women. She ultimately lost her title match to Charlotte Flair and Becky Lynch inside a triple threat fight, the women's champions on Smackdown. Lynch managed to pin Flair in the fight. Ronda Rousey has never submitted or been pinned since she debuted 7 years ago.
The match was a welcome ground for many former women's wrestlers. Ronda Rousey, however, is the lead fighter with a chance of a longer company run.