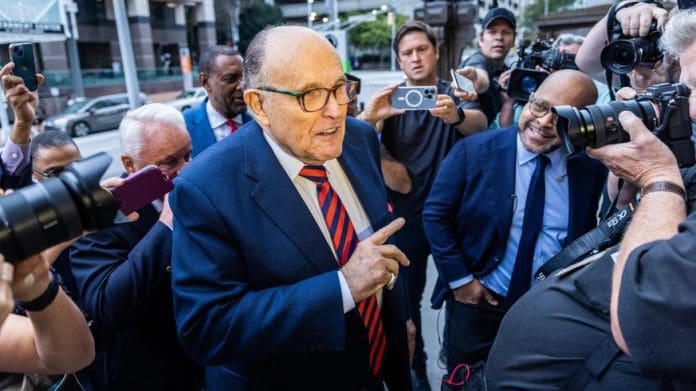 Rudy Giuliani is to testify before a grand jury that is looking into Trump's attempt to sabotage the Georgia election results. He arrived under order at a courthouse in Atlanta on Wednesday. His summon is part of the investigation into attempts by former president Trump and his henchmen to overturn the Georgia election defeat in 2020.
Rudy Giuliani was swarmed by reporters and cameramen as he emerged from a limousine on Wednesday accompanied by Robert Costello, his attorney. Walking up the steps into the courthouse at Fulton County, the former mayor of New York City declined to talk to reporters about his testimony. He only told reporters that the grand juries were secret proceedings, and he would be facing questions.
It remains unclear how much Rudy Giuliani would be willing to reveal now that his advocate has been informed that he is a target. Questioning will be done behind closed doors as such jury proceedings are secret.
What is clear is that the DA is interested in the hearing of the Georgia Legislative Committee held in December 2020. Earlier prosecutors in Georgia told his lawyers that he is a target of their criminal investigation about possible interference by Trump in the 2020 presidential election process.
Rudy Giuliani To Invoke Attorney-Client Privilege If Interrogated
Rudy Giuliani's lawyer has told the former lawyer for Trump had served only in a personal capacity and would most likely invoke attorney-client privilege if interrogated about his dealing with the disgraced former president. Costello said that people are delusional if they think that Rudy Giuliani would reveal his conversations with Trump.
The Georgia election investigation was launched last year after Trump made a call to the Secretary of State of Georgia Brad Raffensperger during which he asked the latter to muster the necessary votes.
But state election officials and top judicial experts have admitted that there is no evidence that the fraud affected the outcome of the elections in Georgia.