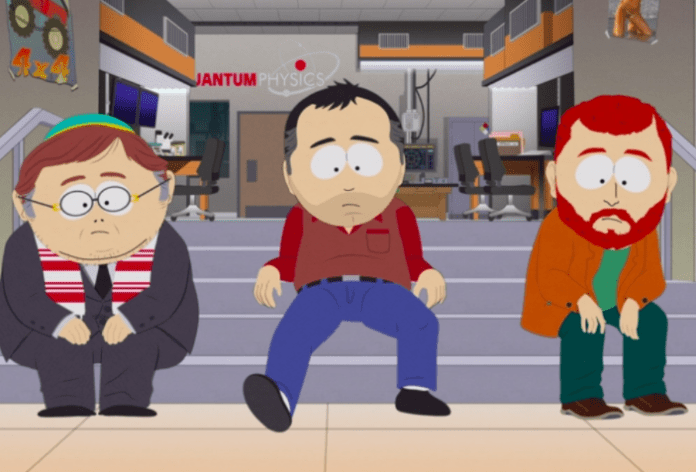 The latest event in South Park picks up far into the future, tens of years, after the show's core four have stopped speaking to one another. Stan, now an online whiskey consultant in a relationship with a holographic Alexa, is stunned to receive a phone call from Kyle, who informs his elementary school pal that Kenny McCormick is dead. For real, in this scenario.
News of his death affected everyone, which included Jimmy, who was a late-night talk show host. 
Kenny From South Park Is Dead, For Real
Jimmy is so disheartened by the news that he cancels on his scheduled guest, who was "First Lady Tom Kardashian". 
All of the usual suspects descend upon South Park for Kenny's funeral, including Cartman, whose apparent conversion to Judaism doesn't sit well with Kyle.
Kyle was likely traumatized from all those years of antisemitic bullying at Cartman's hands.
Kenny's on-record cause of death is a new strain of the coronavirus called COVID Delta+ Rewards variant, and since one citizen in South Park is revealed to be unvaccinated (which was obviously Clyde), everyone is forced to quarantine within the town limits.
There's a pretty amazing moment where Clyde explains that he doesn't want to get vaccinated because he's allergic to shellfish, so if someone who makes the vaccines happened to have recently eaten shellfish, it would be bad. "It's a general sense of shellfish-ness," he says.
The episode ends with a return to South Park Mental Asylum Plus, where Kenny's right-hand man "Victor Chaws" is being held. But it isn't until we see the name tag on his door that we realize it isn't Victor "Chaws." It's Victor Chaos.