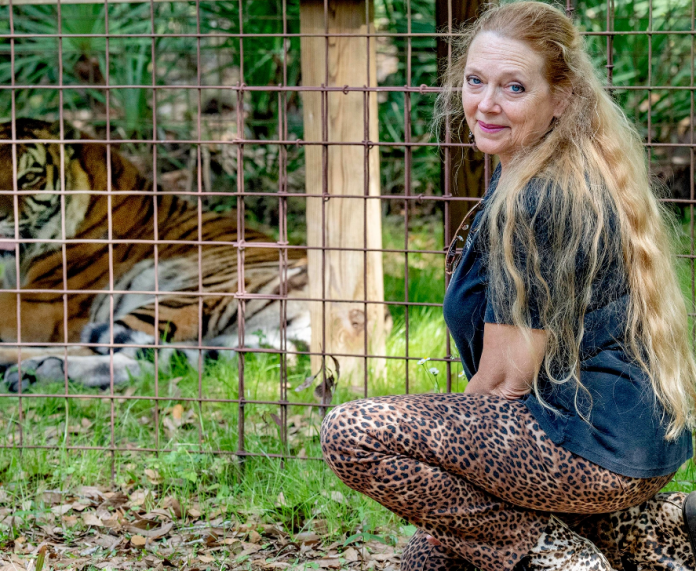 Carole Baskin, the nemesis of Joe Exotic in the hit Netflix documentary, Tiger King, has sued the streaming giant for use of the Baskin couple in trailers for the 2nd series.
Carole Baskin and her husband are the founders of the influential sanctuary, Big Cat Rescue. They contend that Netflix has breached the contract by their use of their footage in the 2nd part of the Tiger King trailer.
The second installment of the documentary releases on November 17 if there are no hiccups. The suit was filed by Carole Baskin on Monday. The couple has alleged that the contract with Netflix was only for the 1st part of the series. Carole Baskin has earlier dismissed the series 'a reality show dumpster fire.'
Their lawsuit states that Netflix was in breach of the terms as they had utilized the footage of Big Cat Rescue and the Baskin couple.
The couple wants Netflix and Royal Goode Products to delete all footage involving them from the second installment of Tiger King.
The lawsuit further alleges that the 1st series had erred in depiction operation in Big Cat Rescue. They said that the series has unfairly blamed the Baskin couple for the abuse of animals.
Carole Baskin has also claimed that the 1st series has spitefully involved Carole in the mysterious disappearance in 1997 of Carole's first husband.
The Confrontation Depicted Between Carole Baskin And Joe Exotic Had Millions Of Viewers
Tiger King ratcheted up millions of captive audiences with the main theme being the confrontation between Carole Baskin, the animal conservationist, and showman Joe Exotic, who owns the Greater Wynnewood Exotic Animal Park located in Oklahoma.
Joe Exotic was arrested in 2018 for hiring hitmen to assassinate Carole Baskin 2018. He was declared guilty of several charges ranging from animal abuse to attempted murder. He is at present in jail serving a long 22-year sentence.
Exotic, whose real name is Joseph Maldonado-Passage has appealed against the sentence, which he has termed as being too harsh.
The federal judge in Oklahoma has since ordered the owners to hand over the tigers and lions as the park was found to have violated the Animal Welfare and the Endangered Species Act.
Carole Baskin and her husband have since teamed up with Michael Webber for The Conservation Game.