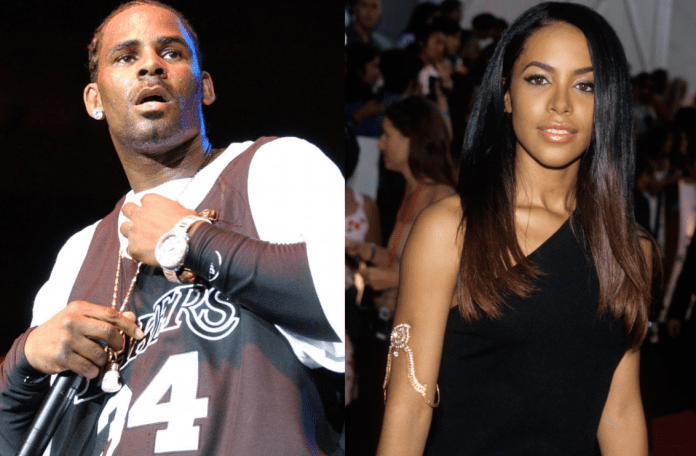 A tour manager for R. Kelly had testified that the singer had bribed a worker to obtain a fake identity so that he could marry Aaliyah.
Aaliyah was 15 years old then and this was in 1994. Demetrius Smith testified that $500 was paid by R. Kelly to obtain an ID, who was 27 years old then.
Smith was providing evidence after being granted immunity from prosecution.
R. Kelly is on the stand for sexual abuse, bribery, and racketeering and has denied all the charges.
Aaliyah Was Underage When Kelly Approached Her
Smith had made the decision of obtaining these documents after R. Kelly's associates reported that Aaliyah was pregnant. The tour manager had said so at the trial in Brooklyn, on Friday.
He had questioned Kelly's intentions after he asked him about his stance on the pregnancy after he had pointed out that Aaliyahs was underage.
Smith had visited the welfare office and bribed the officials there. The bribe was paid on 30th August 1994, a day before the license for marriage was issued. 
The certificate listed Aaliyah as an 18-year-old and the marriage ceremony was held after a few months. Aaliyah had died in 2001, in a plane crash. She was only 22 and her debut album was named "Age Ain't Nothing But A Number". The album was written and produced by R. Kelly himself. 
Kelly is also on the trial for being in a decade-long scheme, where underage girls were recruited for sex.
If Kelly is convicted he will be sentenced to several years in prison. 
The prosecutors had claimed that Kelly used drivers and lawyers to cover up his crimes and had bribed the victims by filming the sexual actions in order to blackmail them. Kelly still faces charges in Minnesota and Illinois on sexual grounds, where he pleaded not guilty.
Kelly is known for his hit "I Believe I Can Fly" and has been in jail for 2 years before being moved to Brooklyn in June.