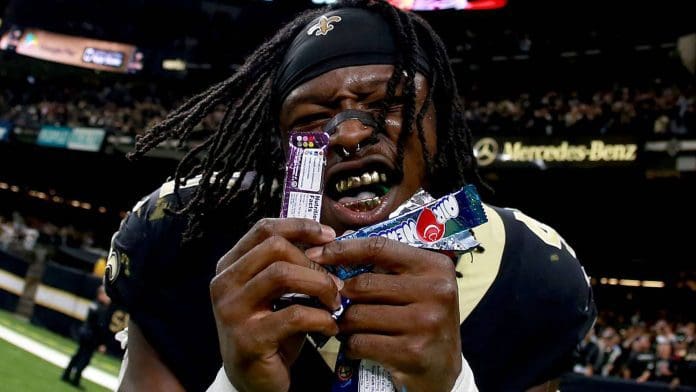 According to an LV Metropolitan Police Department announcement, The Saints' RB Alvin Kamara was arrested and jailed for violence resulting in severe bodily injury on Sunday.
In the report, officers from the LV Police Department were summoned to a nearby hospital on Saturday at around 5:50 p.m. local time, where the victim, Darnell Greene, reported being attacked at a nightclub on the 3500 block of South Las Vegas Blvd.
Alvin Kamara And His Gang Beat Greene Into A Pulp
Alvin Kamara, 26, was apprehended without incident and transferred to the Clark County Detention Center, where he was charged with felony violence resulting in serious bodily harm. The inquiry is still underway. According to court documents, Kamara posted bail at 8:30 a.m. Monday. On March 8, a court date has been set.
Greene told authorities he was waiting for the elevator with a group of people, including Alvin Kamara, at The Cromwell Las Vegas Hotel & Casino at roughly 6:30 a.m. regional time Saturday morning, according to a Las Vegas police report. Kamara allegedly put his palm on Greene's chest as the elevator doors opened, preventing him from entering.
Greene said he moved Kamara's hand away and was then shoved forcefully, forcing him to fall. Greene claimed he was then attacked and kicked by many others before passing out. Kamara was one of the individuals who assaulted him, he said.
In line with the claim, the security footage shows Greene being attacked by four individuals, including Alvin Kamara. Greene suffered an orbital fracture in his right eye, which may require surgery.
On Sunday, Kamara caught four receptions for 23 yards in the Pro Bowl, which was held at Allegiant Stadium in Las Vegas. Police interrogated Kamara inside the arena after the game. Kamara admitted to throwing a couple of punches but couldn't recall if he hit Greene when he was on the ground. Greene was allegedly fleeing and had done something to Kamara's crew, according to Kamara. The footage disproved Kamara's claim.