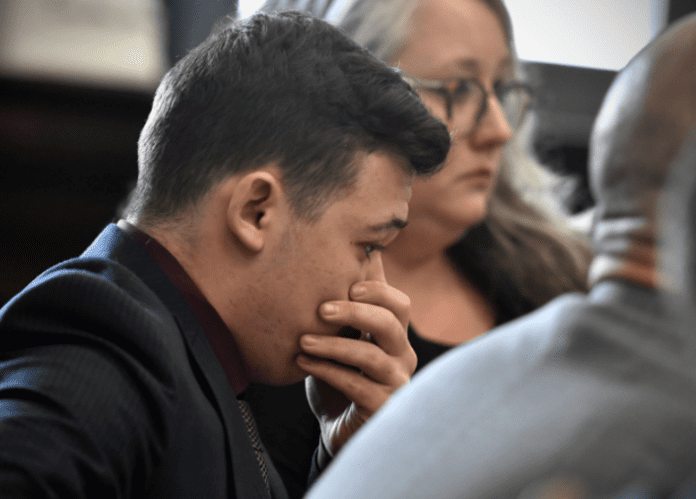 President Biden expressed anger after Kyle Rittenhouse walked free despite killing two people with an automatic rifle and injuring another during racial strife in Wisconsin in 2020. Biden expressed dismay in a statement, though he had earlier said he supported the jury's decision.
Kyle Rittenhouse was cleared of all 3 charges for the 25 August fatal shooting in Kenosha, Wisconsin. Low-key demonstrations broke out over the verdict that threaten to further divide the US along racial lines.
Kyle Rittenhouse admitted to fatally shooting 26-year-old Anthony Huber, 36-year-old Joseph Rosenbaum, and seriously injuring 28-year-old Gaige Grosskreutz. But he maintained that he fired at the unarmed men in self-defense.
Kyle Rittenhouse, a former police cadet, walks free after being cleared on 2 counts of intentional and 1 count of attempted homicides, and a further 2 counts of endangering safety recklessly.
Rittenhouse seemed to collapse in relief at the verdict, as he came to know his fate in the courthouse. A 12 member jury of 7 women and 5 men gave their verdict after deliberating for over 3 days. Wendy, his mother, was also seen weeping.
The shooting occurred during civil protests over police brutality against blacks and the brutal shooting of Jacob Blake by police officers.
President Biden Says Kyle Rittenhouse Verdict Has Caused Anger But Must Be Accepted
Earlier, President Biden had tweeted linking Kyle Rittenhouse to white supremacist groups. When asked on Friday if the President has said that he stood by the decision of the jury.
In his later statement, the President said that we must accept the verdict of the jury, though it had left many Americans, including him concerned and angry.
Kyle Rittenhouse had gone to Kenosha even as the city was rocked by race riots over 2 nights. His attorney had said that he had rushed to the city in the Midwest after hearing news of damage to private property.
Both the men shot fatally by Kyle Rittenhouse had been unarmed. The parents of Anthony Huber said that the verdict sends an unacceptable signal that it is okay for armed people to show up anywhere in the US, and they find a justifiable reason to shoot them down.
The Kyle Rittenhouse trial has also split people along political lines with Republicans justifying the killings.