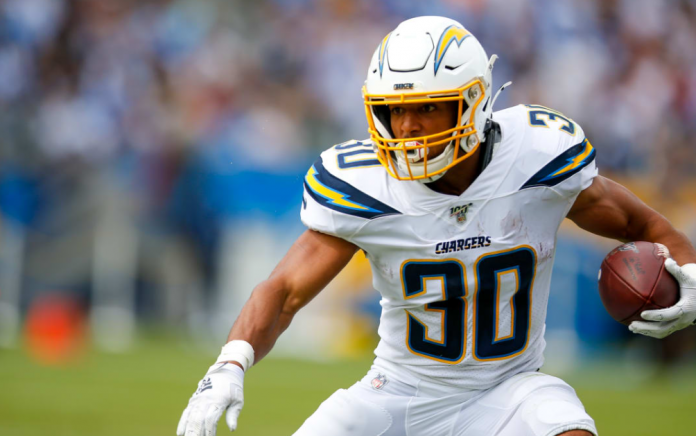 Austin Ekeler is currently entering his 5th season in the NFL. The chargers are close to the beginning of the season and take on the Washington team this Sunday.
There is a huge concern in the dressing room as they will be missing a top offense as their RB Austin Ekeler was injured.
How The Chargers Will Make Up For The Missing Austin Ekeler
The issue is not ideal for the offense as they will take on a strong Washinton 7 this week. Justin Herbert would have lesser responsibilities if the RB Ekeler was on the field with him. It will be worth watching how Herbert adjusts to something new, to try against Washington.
Austin Ekeler is not a stranger to hamstring injuries as he was restricted to ten games last season after a hamstring injury and a hyperextended knee injury in the 4th Week. Those injuries ultimately saw him sidelined until the 12th Week.  
In the ten games he played, Austin Ekeler showed why he is regarded as one of the most versatile running backs in the league. Ekeler is widely considered a top-10 pick in the fantasy drafts in 2021. He finished 2020 with 530 yards rushing, 54 receptions for 403 yards receiving, and three total touchdowns. 
If Ekeler misses the upcoming game for the Chargers, Justin Jackson, Joshua Kelley, and Larry Rountree III are the other backs on Los Angeles' roster and they will be called up to take his spot in the first team.