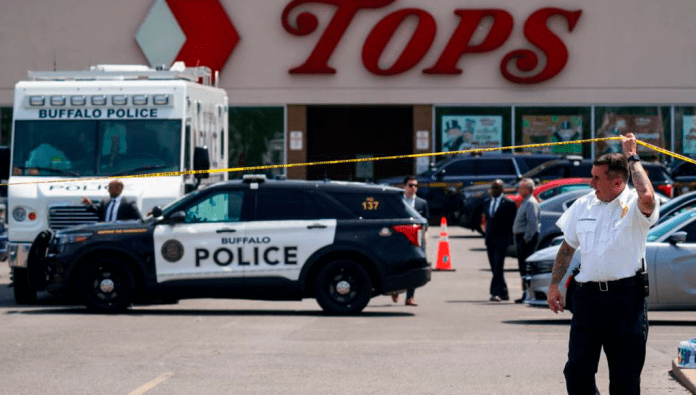 The president wanted to get to the site of the Buffalo shooting to grieve with the families and address the problems that America faces.
Speaking for the second time in less than four hours on Tuesday about the Buffalo shooting at a grocery store that had left 10 dead, President Joe Biden pledged to hold those who had inspired the shooter accountable.
President Biden Pledges To Expose Everybody Involved In The Buffalo Shooting
"We're gonna fight like hell and we're going to expose everybody," he declared.
But despite describing the Buffalo shooting as an act of domestic terrorism, the president declined to do any actual exposing on Tuesday. He did not name individuals who he believed were responsible for spreading the "replacement theory" dogma that compelled the Buffalo shooter to act. Instead, he cast blame on institutions and nameless politicians who he said were cynically pushing the theory for profit and power.
Biden's aides say that his reticence is deliberate and that it underscores just how delicate he and his administration view the current tinderbox that is American politics. They have been reluctant to call out individuals by name precisely out of fear that it would distract from the "substance" of the problem and give more attention to the conspiracy, which holds that white Americans are being replaced by nonwhite immigrants orchestrated by a cabal of elites eager to see Democrats win office.
Senior aides have felt that pressure from fellow Republicans and, importantly, advertisers would be more effective in pushing individuals like Fox News host Tucker Carlson to distance themselves from replacement theory. As one senior aide put it, there was no desire to give Carlson a clip of a presidential attack that the host could "use in his A-block every night."
"[We] totally understand the desire to call people out who have been pushing this disgusting rhetoric, but I also think it's worth remembering that many of these demagogues would love nothing more than the oxygen and attention that comes from the president blasting them," a person familiar with the White House's thinking said. "And in turn, that attention and notoriety may help them further spread these lies."
Biden's decision to go to the site of the Buffalo Shooting on Tuesday came within hours of the reports of the mass shooting there, with the president asking his advisers to make a plan for him to go despite having a grueling flight to Asia slated later this week. According to three White House officials, Biden pressed them to make it happen, checking first with Gov. Kathy Hochul of New York about the feasibility of going to the site of the shooting not even 72 hours after it took place.