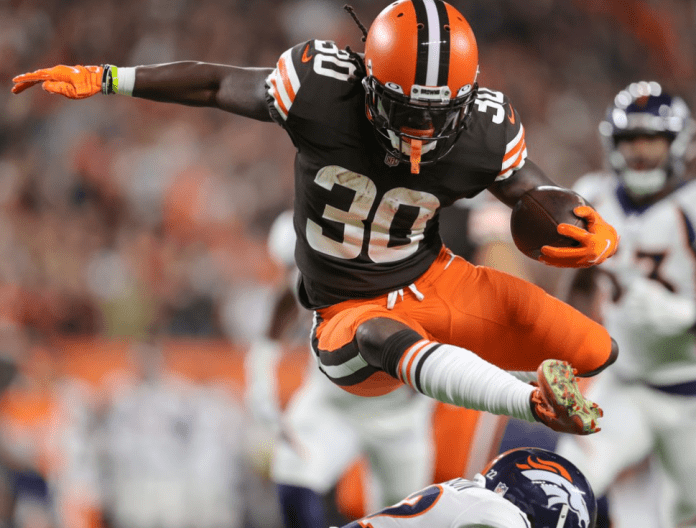 D Ernest Johnson made his first career start and scored his first career touchdown all in a win for the Browns.
Cleveland Brown played against the Denver Broncos on Thursday, which was hampered by several injuries to players in every position. The key element in such a situation was the nest man-up mentality and Cleveland managed to deliver.
D Ernest Johnson had a great breakout performance to push Cleveland to a 17-14 win. D Ernest Johnson was that third RB behind Kareem Hunt and Nick Chubb and made his first start. He managed 146 rushing yards on 22 carries and scored the first TD in his career in the first quarter. The Browns managed to win the game on his back.
The Story About D Ernest Johnson
D Ernest Johnson signed with the Browns in 2019 after his time with the Alliance of American Football abruptly ended. He played eight games for the Orlando Apollos before he joined the Browns later in the year. He's spent the last few seasons in a backup role before Chubb and Hunt would go down in back-to-back weeks. 
Johnson was at a loss of words while speaking to the sideline reporter. He stated that it was a dream come true for him to play in the NFL. He gave his thanks to God and his coach, Stump Mitchell, for believing in him. He also thanked Mike Priefer for giving him the chance. He felt great after the win and was a dream come true to go out and play the game and just be able to start for the Browns.
Before Johnson signed with the Browns, he was working as a fisherman in the Florida Keys. D Ernest Johnson was so good that even LeBron James took notice of his performance. 
Case Keenum played as well as the Browns could've hoped for. Starting for an injured Baker Mayfield, he was 21-for-33 with 199 passing yards and didn't throw an interception. Jarvis Landry had a team-high five catches for 37 yards. Johnny Stanton had Keenum's one touchdown pass.