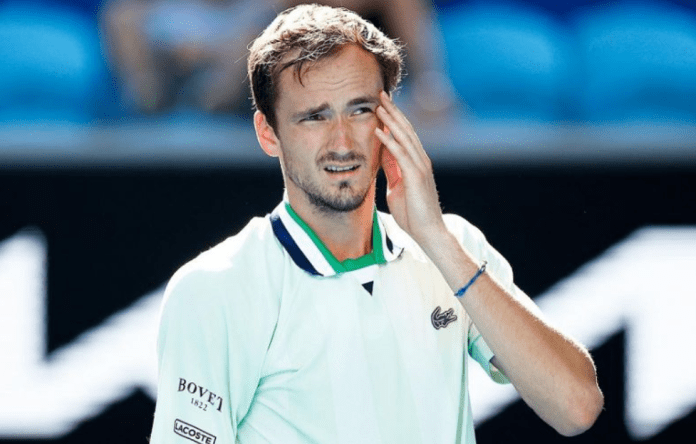 Daniil Medvedev ended World No. 1 Carlos Alcaraz's dominant position at the US Open Championship. The Russian ended the Spaniard's dream run that began last year when he won the US Open. Daniil Medvedev shocked the reigning world number one 7-6(3), 6-1, 3-6, 6-3 to ease into the final where he will meet the legendary Serb Novak Djokovic. He denied tennis fans the epic end to the US Open that they had been hoping for all season.
A final featuring Daniil Medvedev, a former winner, and the 3-time winner Djokovic is predicted to be a high-voltage match. But it lacks the excitement of the rivalry between one of tennis' all-time greats and the hottest player to emerge in recent years.
Daniil Medvedev Is Playing His 3rd US Open Final In 5 Years
Djokovic cruised to a relatively easy victory when he eased past big-hitting American youngster Ben Shelton in straight sets, 6-3, 6-2, 7-6(4). But Alcaraz failed in his quest to get past the third-seeded Daniil Medvedev who held on in what was a tough match.
As he stepped into the Arthur Ashe Stadium, Daniil Medvedev was aware that the crowds were rooting for Alcaraz. He realized that he would have to pull off an other-world performance if he was to succeed in halting Alcaraz. And that was something that the crowds did not believe he was capable of. But Daniil Medvedev has always thrived on challenges and has performed well when he was not considered a favorite. That is a quality that has always marked his career.
The Russian said later that he realized that he had to play 11 out of 10. In the end, he was even better than that. 12 out of 10, as he put it. Instead of the expected battle, it will be a repeat of an old rivalry as Daniil Medvedev plays his 3rd US Open final in the last 5 years. Two years ago he decimated Djokovic in straight sets and ended Djoker's attempt at a Grand Slam at the last hurdle.