Over the years, Huawei has earned quite a name for producing quality products. They are well-known not only for their amazing cameras but also, for introducing their own in-house Kirin-series chipsets. You can not only find Kirin chipsets in Huawei phones but also, in their sub-brand, Honor smartphones. The Honor 30 series is an anticipated smartphone and it comes with Honor 30, Honor 30 Pro and Honor 30 Pro+. The Honor 30 has the Kirin 985 chipset – a new one that had not been tested before. The Kirin 990 5G chipset of Honor 30 Pro and Honor 30 Pro+ has been tested before.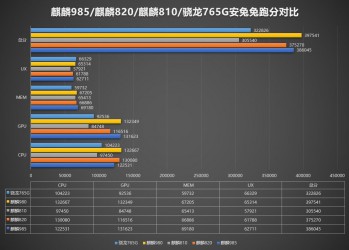 You might think that the 985 chipset will have a similar performance as the 990, but it is not so. It comes close to 980 but falls even less. Actually, as per the AnTuTu performance numbers, it comes between Kirin 820 and Kirin 980.
The 985 had a score of 386,045 points. The Kirin 820 registered a 375,720 while the 980 registered 397,541 points. The Kirin 985, however, competes well with Snapdragon 765G and actually beats it.
Hopefully, the performance remains adequate to keep the phone smooth even when you use it for high-end tasks.