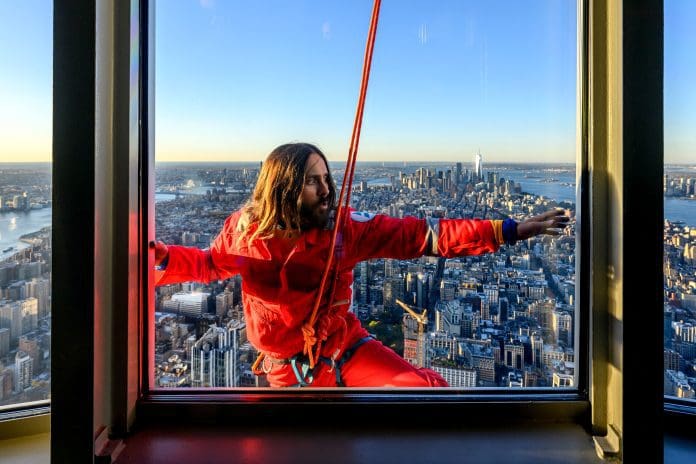 Oscar winner and Thirty Seconds to Mars lead singer Jared Leto accomplished a stunning feat on Thursday. He climbed the Empire State Building to celebrate his band's world tour next year. The frontman and founder of 30 Seconds… scaled the exterior of the imposing landmark in New York City to announce the band's 2024 tour. He said the landmark building was a testimony of all that one can achieve through diligence. Jared Leto said that it was the motivation behind their recent album, It's the End of the World but It's a Beautiful Day.
An Instagram post shared by the building authorities depicted Jared Leto clad in what appeared to be an orange jumpsuit. He climbed the last part of the landmark building that houses the observatory. He ascended from the 86 floor all the way to the 104th floor which took him to the tallest point which is around 1,300 up in the air.
Jared Leto Is Also Known For His Acting
A photograph showed Jared Leto performing at the top of the building after the jaw-dropping display. The actor is known for roles in the films Requiem for a Dream and Dallas Buyers Club. Thirty Seconds to Mars Massive Season 2024 kicks off with the Latin America leg of the tour and is the band's 1st major tour in 5 years. They will be touring South America between 15 and 30 March.
The next is the European leg of the tour between April 16 and June 1 followed by the visit to New Zealand and Australia for a week starting September 12. The North American leg of the tour begins July 26 to September 4 with backing from Poppy, KennyHoopla, and AFI. It's the End… features the singles Seasons and Stuck and was released on September 15.