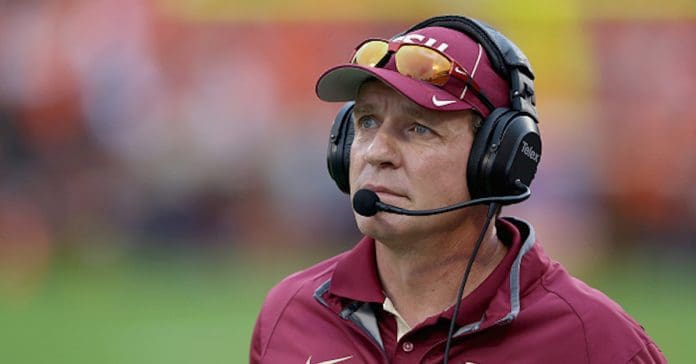 Jimbo Fisher, the head coach at Texas A&M, batted off any claims that his team employed Name, Image, and Likeness (NIL) deals to secure the best recruiting class in history, calling such claims "absurd" and calling those spreading them "reckless as hell." He spent about three and a half minutes explaining his recruitment strategy while criticizing how some of his SEC opponents recruit, the role of NIL in the sport, and the media's coverage.
Jimbo Fisher Says That NIL Had No Influence
According to 247 Sports' composite rankings, Texas A&M signed five-star defensive lineman Shemar Stewart, one of the most highly-regarded athletes in Florida, on Wednesday, establishing the university's 2022 recruiting class as the finest ever.
Texas A&M's recruiting success, which comes off a dismal 8-4 season, has spurred accusations and conjecture that the Aggies are effectively paying prospects through NIL arrangements.
Jimbo Fisher cited a specific Oklahoma fan message board post, as well as a site that aggregated the post, in which it was claimed that a $30 million fund had been set up to compensate Aggies players for the use of their names, photos, and likenesses. Rival coaches and some media sources, according to Fisher, who was appointed as Texas A&M's head coach in 2018, have promoted the "unbelievable" claims.
Alabama football coach Nick Saban chastised the use of NIL agreements to sway recruits on Tuesday, though he didn't identify any specific school or coach.
Alabama never compensated players to join their institution, Saban confirmed on Tuesday.
The rumors about his program's recruiting procedures, according to Fisher, are hypocritical.
Jimbo Fisher closed his impassioned statement by stating that the game was evolving and that it was not due to NIL.
Mississippi coach Lane Kiffin bemoaned the absence of specific guidelines governing NIL payouts to college athletes on Tuesday.