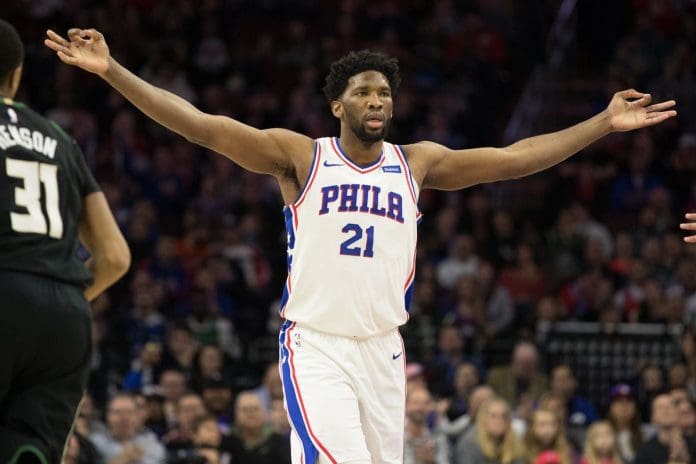 This was something Joel Embiid dreaded would happen. He was, in fact, correct.
Embiid, the NBA scoring champion and MVP finalist has a right orbital fracture and a minor concussion, according to the Philadelphia 76ers. For the time being, those injuries have him labeled as out on the injury report, and he will remain so for the foreseeable future. On Monday night, the 76ers face the Heat in the first game of their Eastern Conference semi-final series.
The injuries originate from a hit Embiid took with 3:58 left in Thursday night's game against the Raptors in Toronto when the 76ers were up 29 points and on their approach to clinching the East first-round series.
He was hit in the face by a charging Pascal Siakam and took several steps back, clearly in discomfort.
Joel Embiid Suffered An Orbital Fracture And A Minor Concussion
Joel Embiid left a few minutes later. Nobody knows when he'll be able to play again. Following the game, he took a seat for a post-game talk with NBA TV, and one of the first topics he was asked was how he was doing. Unless something drastic happens, it appears that Embiid will be unable to begin this series — at the very least. Late in the 2017-18 season, he was sidelined for nearly three weeks due to a similar fracture to his left orbital bone. He required surgery and was forced to miss ten games, including the first two matches of a finals game against the Heat.
The length of time Joel Embiid misses now is clearly determined by the severity of the fracture in the bones surrounding Embiid's eye. When he returned in 2018, he donned a specially tailored mask, even after surgery. The 76ers didn't mention surgery in their Friday night statement, which might signal that it isn't necessary this time. There's also the matter of completing the NBA's concussion protocol, which may take a few days.