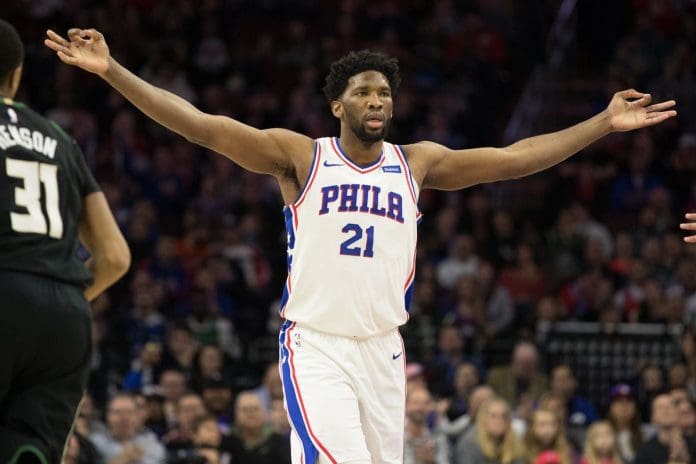 Philadelphia's star Joel Embiid came back from his facial injury to re-energize the Sixers to beat the Miami Heat on Friday (99-79). This helped the 76ers to claw back after losing the first two games in the NBA playoffs.
Embiid was out of the Philadelphia 76ers' losses in Games 1 and 2 against the Miami Heat following his orbital fracture and concussion in the 1st-round win over the Raptors. He was elbowed on the face by Pascal Siakam in their win against the Rappers.
Joel Embiid said that it was an accident but was peeved at the Raptors fans for abusing him.
Embiid's return was confirmed just before the Philadelphia tip-off. The center scored 18 and pulled 11 rebounds even as the Sixers trimmed the shortage in the 11 Eastern Conference series.
Joel Embiid Was Rusty But Was Inspiring To His Team
The MVP candidate said that he pushed to the best of his ability and was glad about the win and the fact that he was able to engineer a turnaround.
For the Sixers, Danny Green drained 7 of his 9 3-point tries on his way to 21 points while Maxey managed to score all of his 21 points in his scintillating performance in the 2nd half.
Maxey picked up from where former MVP James Harden keyed Philadelphia ahead of the break as he scored 15 of the 17 points.
For the Miami Heat, Jimmy Butler was the top scorer with 33 points. Herro added another 14 coming off the bench, though Kyle Lowry, point guard, went scoreless. He was back after being out for 4 games nursing a hamstring injury.
Joel Embiid is also nursing torn ligaments in his right thumb, showed signs of rust, and towards the end of the game appeared fatigued. He admitted that he did not have his full energy as he returned from his concussion.
The Sixers were up by 4 after the 1st quarter and led by 9 points at halftime (41-32). They never trialed in the 2nd half. With Joel Embiid back the Sixers look better, and his presence inspired Tyrese Maxey and James Harden to play their best game in this series.