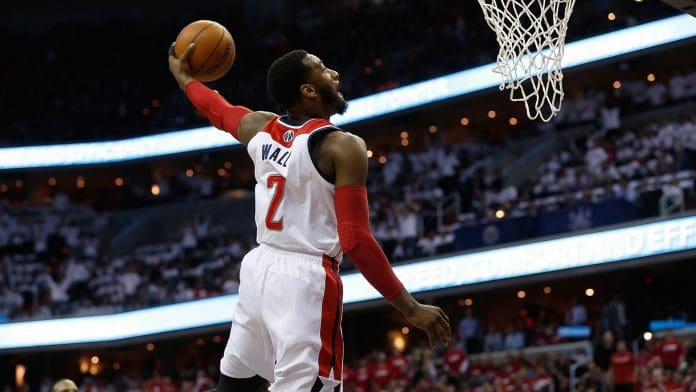 The Houston Rockets and John Wall have decided to work together to find a trade destination for the veteran point guard since the franchise is dedicated to moving forward with Kevin Porter Jr. and Jalen Green as its starting backcourt, reported ESPN.
John Wall Is Due A Payment Of $91 Million
The promise to the 20-year-old Porter and 18-year-old Green leaves Wall without a starting role. Wall, 31, is a five-time All-Star who was traded to Houston in the Russell Westbrook deal last year.  He is not expected to play for Houston, as team management and he jointly decided that a bench role for him would not be advantageous to either party, sources informed.
Wall is due a payment of $91.7 million over the next two seasons, including a player option for $47.4 million in 2022-23, a contract that makes attempting to trade him tremendously tricky. Sources claimed that the Rockets do not want to lose the first-round draft compensation in a Wall trade and will not have interest in discussing a buyout until perhaps after free agency next summer.
John Wall has played 113 games over the last four seasons due to a series of major injuries, including an Achilles tendon tear that put him out for the entire 2019-20 season, the final year with the Washington Wizards. Wall aggregated 20.6 points and 6.9 assists in 40 games for the Rockets last season.
John Wall, a past No. 1 overall pick, is likely to participate in training camp and to be around the team while he stays on the Rockets' roster, sources said. Houston management is hopeful that Wall's years of experience, wisdom, and leadership can benefit Porter and Green, who join center Christian Wood, 25, as the cornerstones of the Rockets' rebuild.
 Sources reported that Wall's relationship with Rockets ownership and management remains strong, as Wall and the Rockets have been in touch frequently throughout the offseason. High-ranking Rockets sources articulated deep admiration for Wall's leadership throughout a chaotic campaign last season when James Harden's trade demand pushed Houston into reform mode and a flurry of injuries factored into the Rockets finishing with the NBA's worst record.