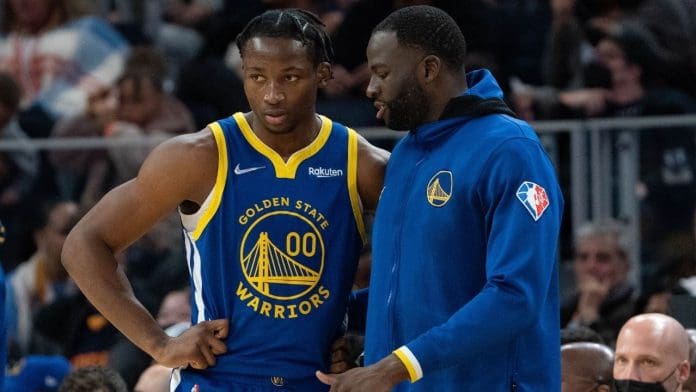 Jonathan Kuminga has proven himself to be a great asset for the Golden State Warriors.
Jonathan Kuminga is five games into his NBA career, and the Warriors got their most meaningful and tantalizing glimpse of his vast potential on Sunday in Charlotte.
While most of the Warriors failed to find a rhythm, much less perform impressively, in a 106-102 loss to the Hornets, Kuminga was an exception.
The rookie played 10 minutes, seven of which came during the second quarter, and proved that his age did not matter at all and that he was good enough to help the Warriors this season.
Jonathan Kuminga Has Shown His Worth 
Kuminga scored 9 points on 4-of-5 shooting in the second quarter. He also had 4 rebounds, a steal, and a block. Given the circumstances on the road for the first time in his career, it was the most scintillating 7 minutes this season by a Warrior not named Stephen Curry or Andrew Wiggins.
Draymond Green stated that he was incredible and had added that his minutes would keep growing in the future if he keeps on playing the same game. Green has no doubt that he will as he will get smarter and figure more stuff out with experience.
Though Jonathan Kuminga's full stat line — 9 points, 5 rebounds, 2 steals, 1 block, plus-11 — was absolutely splendid, it was evident that his composure and court generalship have made significant improvement since Summer League and preseason, where he played in the first 2 games before being sidelined for 4 weeks with a strained right knee.
Jonathan Kuminga possesses the physical tools to defend either guard or either forward, and he seems to welcome the opportunity to prove he belongs. Ask Curry, who has experienced his share of the rookie's defense during practice sessions.