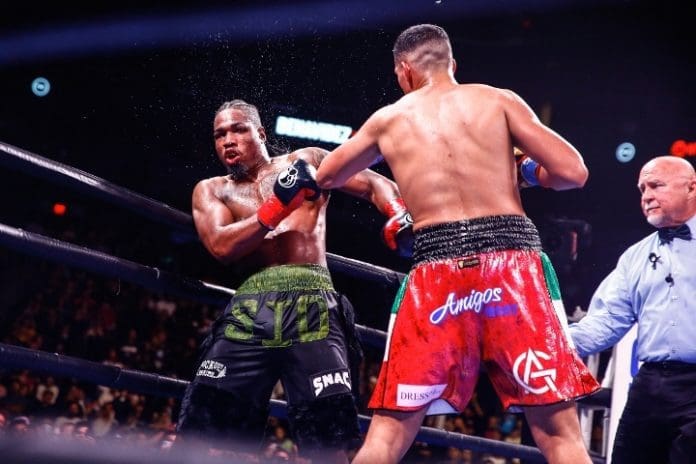 David Benavidez has his career in Canelo's hands.
The way David Benavidez sees it he's the best option for the super middleweight king, who has fought every top 168-pounder except him. All the 24-year-old from Phoenix can do is wait to see whether Alvarez sees it the same way.
In the meantime, he said, he'll continue to do what he did against Kyrone Davis on Saturday night: methodically break down and stop his opponents in brutal fashion.
He has stated that he feels like he deserves that fight and he would keep knocking down everyone till the time he gets that fight. He would be fine if they wanted to do another title eliminator.
He added that his fans were also asking for the Canelo fight.
People Have The Wrong Opinions About David Benavidez
David Benavidez, 24, has been boxing since he was a small child. He understands as well as anyone the challenge Alvarez would present. There's a reason many consider the Mexican star the best in the business.
At the same time, Benavidez knows what he can do in the ring. Davis is not the first fighter who has crumbled as a result of relentless punishment delivered by the former two-time titleholder. He's big, strong, and good. Maybe good enough to beat the king of the ring.
David Benavidez had added that he felt like he was a bigger, stronger, and faster guy now. Many people are of the opinion that he was a walk in the park for Canelo but these haters keep saying the same for all his fights. They have the same opinion that he does not know how to defend nor does he have anything special to offer.
David Benavidez believes his destiny is to be recognized as a great fighter. And the only way to demonstrate that is to fight and beat another great fighter, Alvarez in this case. That's one reason he wants the fight.