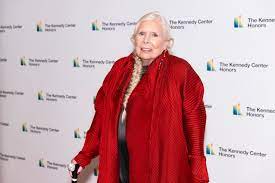 The planned live CD by Joni Mitchell is going to be modelled on her Jul 2022 performance at the Newport Folk Festival, which was her first time performing live in more almost 20 years.
Is Mitchell making her musical comeback again? The famous singer, who is almost in her eighties in a recent interview has revealed that she will be coming back to the industry with a recent album. In her interview with the famous Elton John, on John's show Rocket Hour available on Apple Music Joni Mitchell has made these announcements.
Elton John in the interview asked Mitchell if people who haven't heard anything about the Newport Folk Festival should expect an album from that concert or not? To the question Mitchell answered assertively.
For the 1st time in almost two decades, Joni Mitchell sang a whole set live in front of an crowd during a surprise appearance at a music event in the famous Rhode Island. She revived old favorites including "Both Sides Now," "Big Yellow Taxi," and "A Case of You."
Joni Mitchell Shares News About Her New Album On The Newport Fold Festival:
It was also her 1st concert since she suffered a aneurysm back in 2015. John praised Mitchell's "amazing recovery" since that time, saying that, music helped her so much, also it is great to watch her mature, as they talked.
Prior to the tragedy, Joni Mitchell told media that the singer had to learn doing most of the things. She said that she even had to learn how to play the guitar once again. She admitted to the vocalist of "Tiny Dancer" that Joni Mitchell was able to pull off a great performance in the music festival in Rhode Island and even staged the concert without any prior practice.