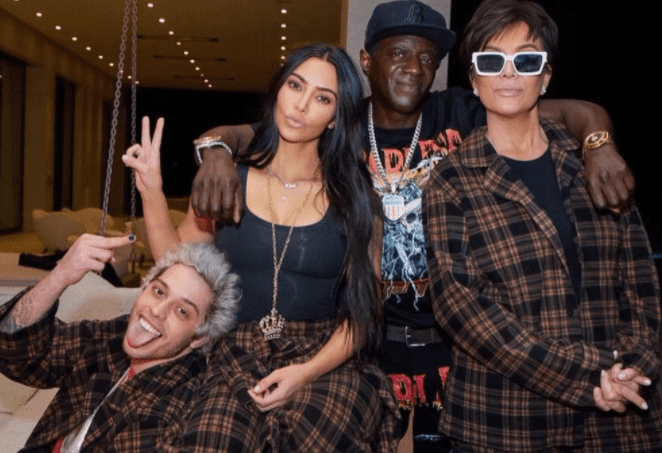 Kim Kardashian's first photo with Pete Davidson on Instagram has the two of them along with Flavor Flav and Kris Jenner, her mom. They both were an item after being seen hand-in-hand at Knott's Scary Farm, California.
Kim Kardashian can be seen sporting a peace signal sitting next to Pete. There was Flavor Flav with his arm around Kim Kardashian and Kris. He captioned his post saying that he was celebrating Pete Davidson, his adopted son's birthday with the legends Kris Jenner and Kim Kardashian. He said that he had never before taken off a clock and he was doing it only for him.
Kim and Pete ad a month earlier kissed on Saturday Night Life in October of this year. Kim had gone there as a guest where Pete was a cast member. One month later, Kim and Pete were espied hand-in-hand at the Farm and then seen on two simultaneous dates in NYC.
Kayne Had Objected To Kim Kardashian Link Up With Pete Before The Final Divorce
Kane West had been peeved at pictures of Pete and Kim holding hands. Kim has filed for divorce from her husband in February 2021. He had asked his ex-wife not to show any PDA with anyone till their legal separation came through. He had said that it did not look good either for her or for the family.
Kris Jenner had refused to give Kayne details about Kim Kardashian's affair with Pete. She was concerned that Kayne would use that in the proceedings against her daughter.
Kayne West was particularly peeved that the Kardashians had been quick to discard him. Kim Kardashian and Pete are said to have officially fallen in love and are eager and happy and always left excited and smiling after the two hang out together.