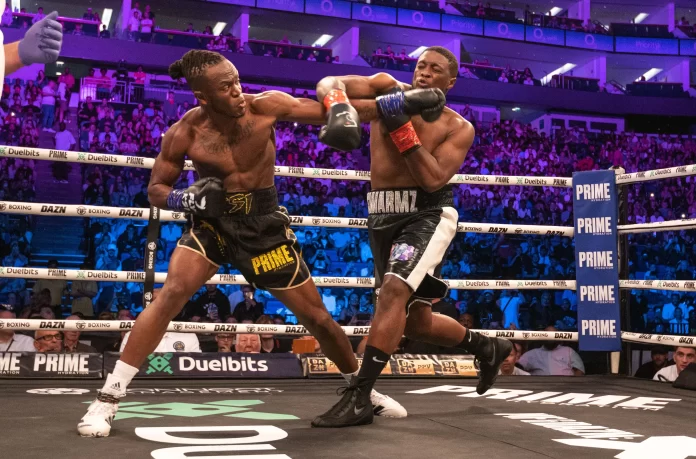 KSI stopped relatively amateur professional boxer, Luis Alcaraz Pineda, in the third round of the internet sensation boxing match today at London's O2 Arena after knocking out Swarmz in the second round.
To be quite honest, the KSI vs. Swarmz match was pretty bad. Nevertheless, it paled in comparison to the Pineda fight, in which the "pro boxer," now 2-6, stumbled around the ring, attempted to avoid contact, and then repeatedly did the same thing: ate a body shot, waited for a head shot to follow, tried to duck into it in a way that made it a rabbit punch, and then complained to the referee.
Luis Alcaraz Pineda Knocked Out By KSI
Before the referee finally called an end to the comical mess, which was easily the most embarrassing bout on a show full of "influencers" and YouTube stars, Pineda was down four times in the first round, twice in the second, and four more times in the third.
Rapper Swarmz from Britain never donned gloves until stepping in last month on short notice. According to reports, he also needed to drop 12 kg (approximately 26 lbs), and yet these things were promoted as selling points. While KSI is not exactly a boxing genius, it was evident from the first bell that Swarmz had no idea what he was doing in the ring. KSI had trained for considerably longer and more intensely than Swarmz had, and it paid off.
Swarmz was mostly reduced to running around the ring's edges in fear, spinning erratically, and occasionally flinging some of the most horrible punches you will ever see in a ring, having to look like a pro wrestler "missing a clothesline" on a few of them that appeared to be aimed at someone about Tyson Fury's height.