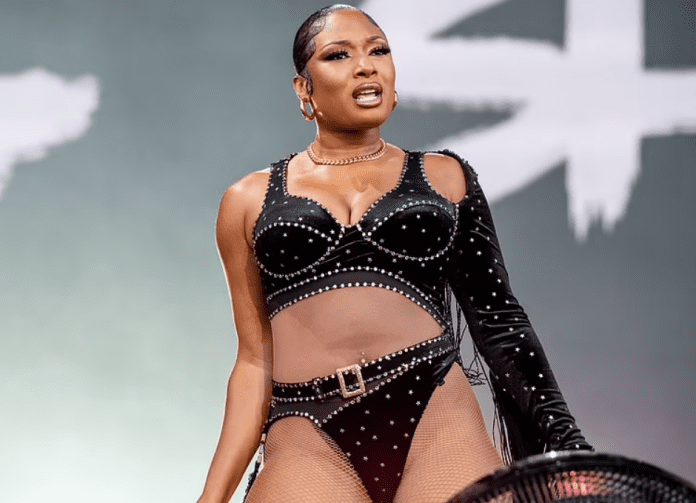 Megan Thee Stallion commanded the stage in a skimpy bedazzled bodysuit during her performance at the star-studded Austin City Limits Festival on Friday afternoon.
While rapping some of her biggest hits, the 26-year-old Texas native took the opportunity to show off her ultra raunchy dance moves and gestures.
Machine Gun Kelly proved to be an ultimate daredevil as he managed to scale a pillar during his performance. This was right before Megan Thee Stallion hit her set.
Megan Thee Stallion Showed Off Her Bodysuit
Megan Thee Stallion had a bedazzled bodysuit which had a one-shoulder design with fringe on the sleeve, as well as a cut-out across the stomach and a flattering plunging neckline.
She also had her pair of black rhinestone boots and a wide-brimmed cowboy hat to keep things coordinated and complete her look.
Her raven tresses were styled into a long braid and she had chunky gold hoops in her ears that matched her chains.
She confidently delivered her signature flow into a shiny gold microphone.
Megan's face was impeccably made up, with the hitmaker wearing glossy nude lip gloss on her plump pout and a fierce smokey eyeshadow look.
Megan Thee Stallion made her fans go wild as she delivered some of her most famous dance moves.
She bent all the way to the floor to shake her bottom, before spreading her legs and sticking out her tongue at the crowd.
She shared the stage with MGK and Miley Cyrus.
MGK leaned into his "rocker" persona and chugged a bottle of alcohol on stage, which was filled with high energy. He smoked a cigarette on the side and looked at his fans in the audience.