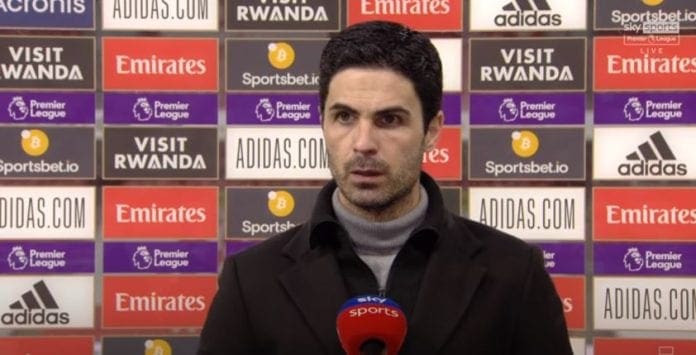 Mikel Arteta accused the club's critics of hypocrisy after they played through a COVID pandemic earlier in the regular season. 
He hit back at Tottenham for having the North London derby postponed on Sunday. He also added that the Gunners would never publicly question an opponent's motives for requesting to have a game called off.
Arsenal asked for the Premier League clash to be postponed, claiming they had "many players unavailable across our squad as a result of Covid, injuries, and players away with their countries at AFCON (Africa Cup of Nations)".
The request was granted by the Premier League on Saturday, with Tottenham then releasing a statement saying the decision was "very surprising" while their head coach Antonio Conte said on Tuesday that only COVID cases should be taken into account when the league chooses whether to call off matches.
Mikel Arteta's Reply To The Criticism
Mikel Arteta refused to reveal which players may be able to return for Thursday's Carabao Cup semi-final second leg at home to Liverpool but strongly defended his club's actions.
"We didn't have the players necessary to have a squad available to compete in a Premier League match," he said. "That is 100 percent guaranteed.
"I don't know if I understand. I'm telling you what we've done. If a team has come to us and said, 'we cannot play and here are the reasons we cannot play', and the game has been postponed, we have never publicly questioned any of that, and we will not."
"That's why we have the Premier League, the FA (Football Association) and the regulators to consider, to find out and do the necessary due diligence to postpone a match to try to maintain the fairness of the competition."