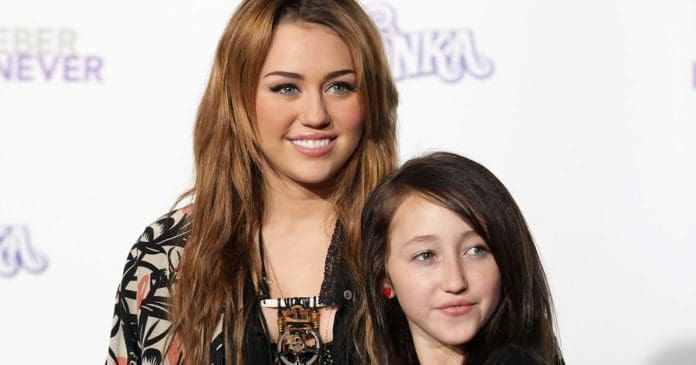 Noah Cyrus turned 22 this year, and her sibling Miley Cyrus lavished her with love in a series of Instagram birthday tributes. Miley tweeted a string of cute photos of herself and her baby sister. One of them Included them making kissing faces and calling it Noah Cyrus #22. She also revealed that her renowned sister has the same birthday as Elvis Presley and David Bowie.
Miley Cyrus Is A Proud Sister
Miley Cyrus also included a string of throwback images of the two from their days on Hannah Montana's set, when Noah, the Grammy-nominated singer, guest-starred in multiple episodes through the 4 seasons of the iconic Disney Channel show.
Following that, Miley Cyrus shared a few videos of her younger sister over the years as a birthday homage. She addressed Noah as the majesty of Miley's universe and the coolest girl alive #22 and #BFF in the captions. Noah Cyrus, on the other hand, raved in the comments area. A baby Noah was seen burying her face in a cake slice in the first footage, while another vintage film showed Noah politely asking Miley who her greatest friend was. Miley whispers before Noah speaks on her behalf and says that it was her. Miley agrees by adding that it was indeed her.
Noah Cyrus dressed up like a feline and replicated cat-like motions using a psychedelic filter in Miley's most recent video. She wore cat ears and had whiskers painted on her face. On her Instagram Story, the Wreckingball musician wished Noah a very happy birthday.
Tish Cyrus, Noah's and Miley Cyrus's mother, also joined in on the birthday celebrations. The mother of five tweeted a photo of her youngest daughter on the red carpet of the 2021 Grammy Awards wearing a white Schiaparelli floor-length gown.