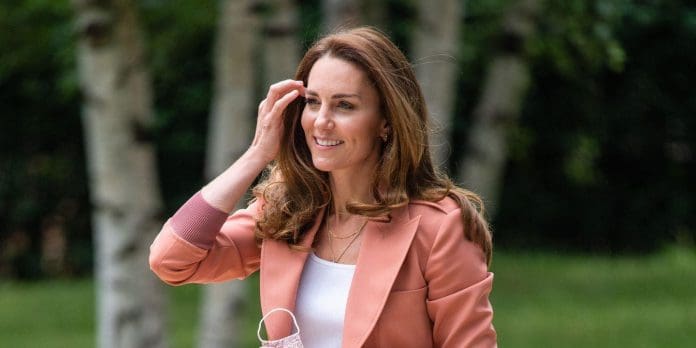 Kate Middleton's new birthday photographs pay homage to the two most renowned royal ladies in history.
On Saturday, Cambridge's Duchess, who turns 40 on Jan 9, unveiled three gorgeous new photographs in tribute to the special occasion. Kate also made a veiled reference to both Princess Diana and Queen Elizabeth.
Kate Middleton's Glamorous Photoshoot
Kate wears a gleaming set of diamond earrings in one gorgeous shot of her in a one-shoulder scarlet satin gown.  The gorgeous earrings belong to Queen Elizabeth.
Kate is featured in a conventional portrait position in a vintage shot, wearing pearl and diamond drop earrings. They belonged to the beautiful Princess Diana, her mother-in-law. 
The earrings are not the only tribute to Princess Diana. Kate also wore the royal's famous sapphire studded engagement ring.
The Duchess of Cambridge has sported both earrings before on several different occasions. She has a regal flair that is reminiscent of Princess Diana. She also frequently wears ornaments from Queen Elizabeth's collection.
Amid the current COVID-19 outbreak in the United Kingdom, the royal mother will observe her birthday discreetly. Her husband, Prince William, and their 3 kids, Prince George, Prince Louis, and Princess Charlotte had a tea party for her 39th birthday last year at their Norfolk country house, Anmer Hall.
Queen Elizabeth has postponed engagements owing to recent health difficulties, and Prince Harry and his wife, Meghan Markle, have decided to step back as senior working royals, Kate is training more than she has ever for the position as coming queen consort with Prince William. Kate has been taking on additional royal tasks.
A few days before her 40th birthday, a source revealed that Kate Middleton was flourishing in the royal family.