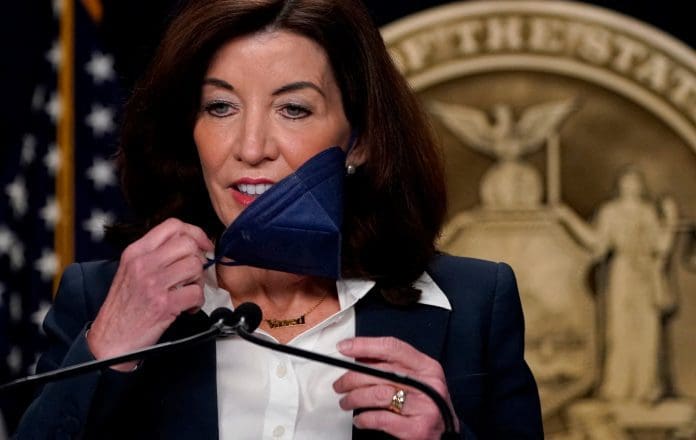 The new Virginia Mask Mandate has been passed. After more than an hour of discussion, a bipartisan majority in the Virginia Senate voted to adopt legislation prohibiting public school districts from enforcing mask requirements on children.
The new Virginia Mask Mandate now goes to the House of Delegates, which is likely to send it to Governor Glenn Youngkin for his signing.
Youngkin, whose efforts to abolish mask regulations through executive order have been stymied by court challenges, has praised the new Virginia Mask Mandate, which was introduced just a day ago in the Senate.
Virginia Mask Mandate Will Present Students The Option Of No-Masks
Chap Petersen, a moderate Democrat, presented an amendment to a Republican measure dealing with in-person school instruction requirements on the Senate floor Tuesday.
The Virginia Education Association, a teachers union, also opposed the measure because it would subvert local control.
Fewer Democrats ultimately supported the bill on final passage than during the 29-9 vote in favor of adopting the amendment a day earlier.
Todd Gilbert, the Republican House speaker, tweeted that his chamber would work quickly to get the measure to the governor.
His proposal, which received strong bipartisan support, said that parents can choose whether or not their child wears a mask at school.
When the altered bill was up for a final vote on Wednesday, Petersen said he expected further discussion on the topic as the parliamentary session progressed. However, he argued that it was past time to cease imposing obligations on families.
Other Democrats complained that the bill would take power to decide on masks away from local school boards, where they believe it should be.
Newly enacted law usually takes effect on July 1st. Youngkin might try to change the law so it takes effect immediately once it is passed, but that would need extra-parliamentary action.
Also on Wednesday, the Senate passed bipartisan legislation backed by Republicans that directs the Department of Education to draught rules for school boards to tell parents when their children are assigned to read books that include sexually explicit material.
Democrats who opposed the bill claimed it would lead to censorship. Republicans said that it was a reasonable approach for parents to have a voice in their children's education. It passed with a vote of 20-18.