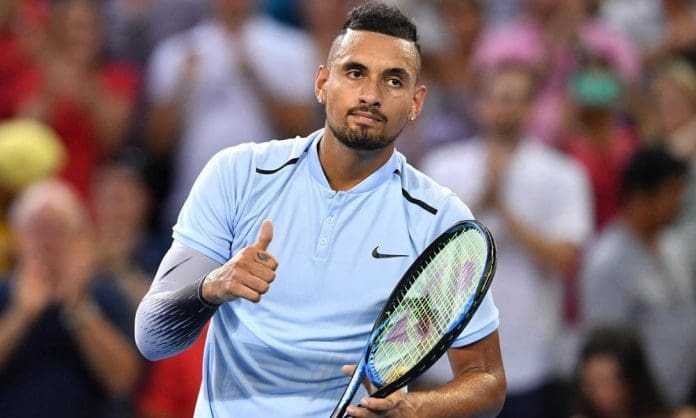 For all of the drama that forever surrounds Nick Kyrgios, there has been one undeniable constant of his season so far – his tennis.
Quietly, Kyrgios is playing some of the best tennis of his life, and, even though he has competed sparingly, almost every time he has taken to the court this year his level has been high. As a consequence, he has put himself in the position for the deep grand slam run that has evaded him so far in his career. Nick Kyrgios came from behind to win a stormy encounter against Stefanos Tsitsipas at Wimbledon on Saturday after calling for his opponent to be kicked out for hitting a ball into the crowd.
The mercurial Australian prevailed 6-7 (2/7), 6-4, 6-3, 7-6 (9/7) in an incident-packed third-round match, during which both players received warnings.
Nick Kyrgios Defeated An Ill-Tempered Tsitsipas 
After sealing his victory, the 2014 quarter-finalist said he had fancied his chances coming into the match after his recent win against the fourth seed on the grass in Halle. There was little hint of the drama to come when 23-year-old Tsitsipas edged a first-set tie-break. But the match descended into mayhem when a frustrated Tsitsipas hit the ball into the crowd after losing the second set, for which he received a warning.
Nick Kyrgios said Tsitsipas should be kicked out of Wimbledon, recalling the incident at the US Open in 2020 when Novak Djokovic defaulted from the tournament after hitting a line judge with a ball. With the match level and Kyrgios in his head, Tsitsipas' mind only descended further into madness. At 3-1, 40-0, Kyrgios threw in an underarm serve, which Tsitsipas responded to by sprinting up to the ball and slapping it high at the back fence. As Kyrgios smirked, Tsitsipas received a code violation and point penalty. Later in the set, Tsitsipas twice slapped the ball as hard as possible at Kyrgios as he stood at the net, barely missing him.