How High Can Penny Stocks Prices Rise Before They Burst?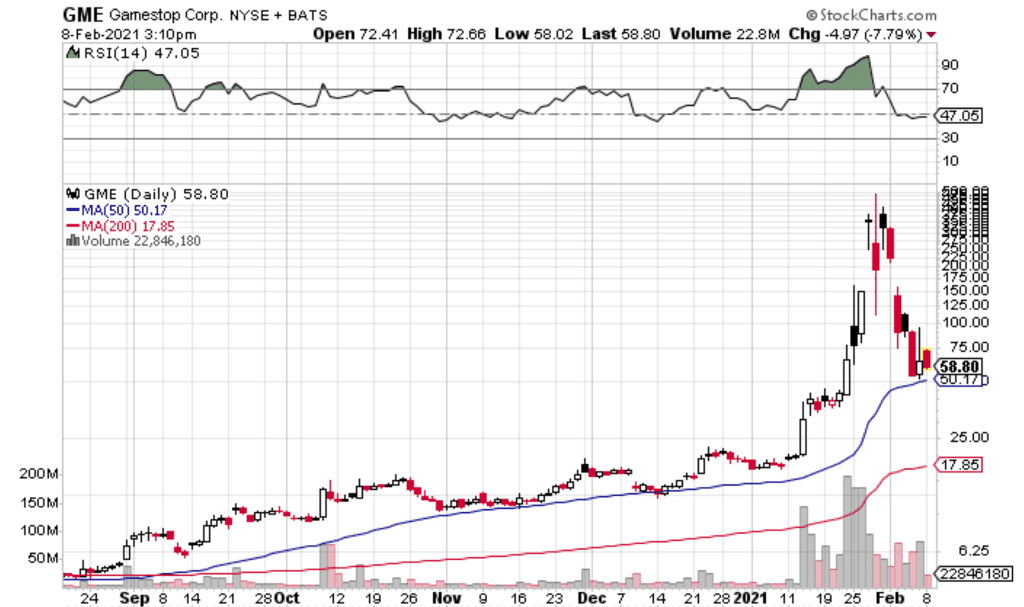 Source: StockCharts (NYSE: GME)
GameStop is a nationwide video game retailer with an estimated 5,000+ stores. This interactive gaming community allows customers to buy games, sell games, and trade games with one another.
GameStop is also a great place for gaming accessories, consoles, and related accoutrements. Unfortunately, GameStop has fallen on hard times, what with double negative of the retail apocalypse and the pandemic.
From the chart above, it's clear that GameStop was effectively a penny stock a couple months ago – a stock trading at under $5 per share. Then, in January 2021, a Reddit thread from WallStreetBets decided to pump the stock with retail traders.
What happened was completely unexpected, particularly for Wall Street hedge funds. The big-time investment corporations bet on stocks and against stocks all the time. GameStop (NYSE: GME) was one such stock they bet against.
When recreational traders decided to pile into GameStop, the price soared to over $400 + per share – unheard of in its history. The reason why the GME saga is so newsworthy is the power of social media and recreational traders to effect major price movements on the financial markets.
Nobody thought a stock like GameStop of all things would hit $400 + per share, let alone hold that level for any length of time. In the interim, hedge funds lost billions of dollars and trading was suspended at major platforms like RobinHood for a short time.
Hedge funds, in an effort to cover their losses bought up more of the stock in a short squeeze. This temporarily drove the price higher. Ultimately, GameStop is a struggling stock, but the power of the pack helped to propel the price much higher.
When quizzed about why the 4 million strong WallStreetBets subreddits members decided to go long on GME, the consensus seems to be that there is a general disdain for institutional traders and corporate money. They went long on the stock because RC Ventures LLC acquired several high-profile board members.
Power is now Shifting from Wall Street to Main Street
It is against this backdrop that penny stocks trading comes into the spotlight in February 2021. If GME is possible and huge profits can be generated for everyday traders, why can't this be repeated with other penny stocks? Truth be told, it can.
Penny stocks traders don't necessarily trade according to Reddit threads, and controversial designs; but there are plenty of opportunities to trade these low-cost stocks on a daily basis, using technical, fundamental, and sound economic analysis.
For the record, penny stocks are defined by the SEC (Securities and Exchange Commission) as any financial instrument a.k.a. stock, trading under $5 per share.
Check these penny stocks for February – they're already garnering plenty of attention from traders.
The Top 3 Penny Stocks to Watch in February 2021
Cytodyn Inc. (OTCQB: CYDY)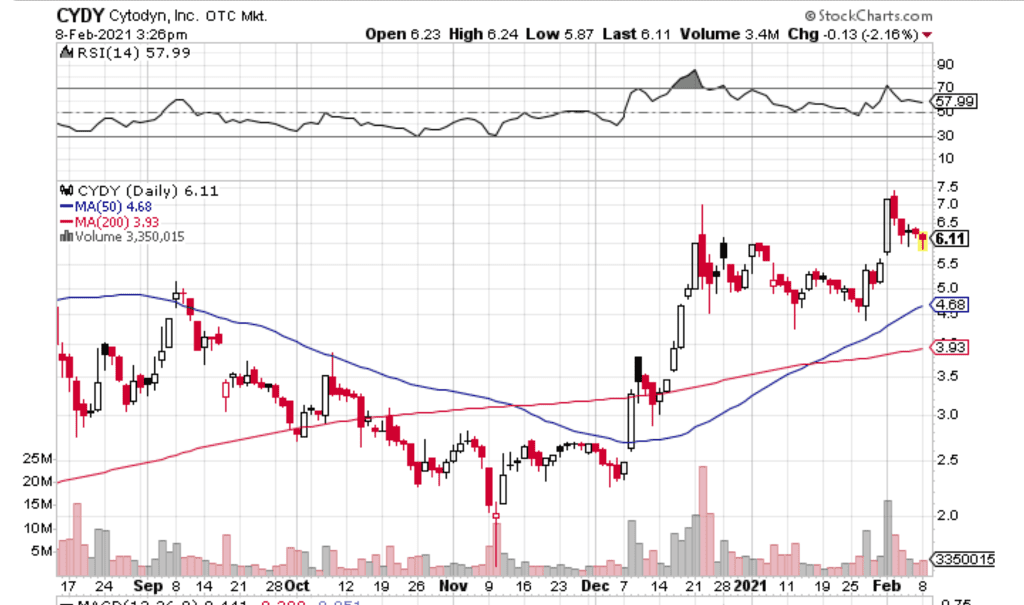 Source: StockCharts Cytodyn Inc. (OTCQB: CYDY)
Cytodyn Inc. (OTCQB: CYDY) is currently trading at $6.03 per share, slightly down on its February highs. The company has a market capitalisation of $3.607 billion, and is deemed a fair value stock by analysts.
While it missed earnings expectations in Q1 and Q2 of 2020, it met them in Q3 and Q4 of 2020. The interesting thing about this pharmaceutical stock is that the price popped as it hit an all-time high of at the end of January at $10.01, before dropping precipitously to its current level.
At its core, Cytodyn Inc. (OTCQB: CYDY) is a biotech company which is involved in the production of antiretrovirals for HIV. It already boasts a Phase 2 completed treatment for the coronavirus, Vyrologix.
This pharmaceutical is currently being studied by the Philippines FDA. On a negative note, the company is being investigated by investors, to ascertain the viability of this pharmaceutical company.
Blue Diamond Ventures, Inc. (OTCPK: BLDV)
Source: StockCharts Blue Diamond Ventures Inc
Blue Diamond Ventures Inc recently hit a 52-week high of $0.0128 in February. This is remarkable for a stock that was trading at $0.0015 recently. This agriculture-focused stock (holistic medicine and botanicals a.k.a. cannabis) is a green energy magnet for investors.
While the company's market capitalisation is really small at just $1.46M, there is always lots of interest in further legalizing cannabis, or at the very least decriminalizing its use. But the big catalyst was the integration and acquisition of the goPronto solution for transport services. The stock has slumbered in recent days, but positive news can reverse that trend again.
Greene Concepts Inc. (OTCPK: INKW)
Source: StockCharts OTCPK: INKW
Greene Concepts Inc. is currently trading around $0.0968 per share, up significantly from $0.0012 barely a few weeks ago. The sharp rise in the price of the stock is attributed to the products that it sells – Be Water – and Happy Mellow. When this penny stock company announced that its products will be sold on Amazon, traders wasted no time piling into the stock, and what you see in the above chart is a classic example of this in action.
In fact, this was a trip zero penny stock, and it was priced at substantially less than a penny per unit. While such price movements are not unusual with hot penny stocks, the most important element to consider is timing. Traders who miss the proverbial boat miss out, and have to wait for the next hot penny stock to come by. Given that the price of the stock is relatively low, there is still room for growth, particularly if more positive news filters through the markets.