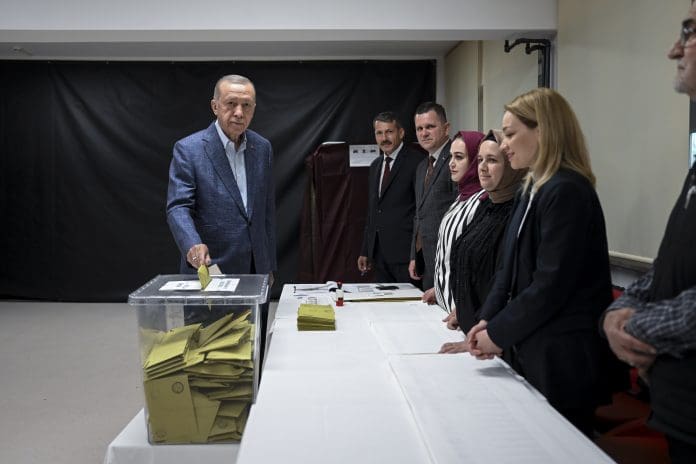 Turkey's President Erdogan has been unsuccessful in securing 50% of votes in the ongoing presidential election and is most likely to go for another round. This election will determine the fate of Turkey's stance being a NATO state and a dominant power in present geopolitics with the ongoing Russia-Ukraine conflict.
According to Anadolu, a news agency run by the state, out of the vote count of 97.95%, Erdogan with his party Adalet ve Kalkınma Partisi or Justice and Development Party, has received 49.34% votes, while the leader of the opposition Kemal Kilicdaroglu received 44.99% votes and Sinan Ogan, the third contender got 5.28% votes.
This brings the Turkish political scenario to a standstill, with none of the contenders though Erdogan being close does not have the much-needed 50% votes to form a government. Thus, re-election is highly necessary. Sinan Ogan has Tweeted that it is possible to have a second round. While Kilicdaroglu too has backed the notion.
President Erdogan Is Highly Criticized For His Actions In February 6 Earthquake
The terrifying earthquake which hit Turkey on February 6 of this year, might have left Turkey with much loss, however, it has significantly damaged President Erdogan's political image. Opposition leaders have highly criticized his actions post the earthquake. He has been called out of mismanaged rescue operations and insufficient analysis of construction control which has been looked over by his party for over 20 years.
The opposition has brushed off the Erdogan administration's actions against project managers, construction inspectors and building contractors as mere eyewash. Erdogan's government had also admitted their mistakes in their actions post-earthquake which claimed about 51,000 people. If President Erdogan wins the second round of votes, he will continue as president of Turkey for 25 years.